Informasjon
Torq ACT 5'8 Multiplier Surfebrett - Black Rail
Specs: 5'8 x 19 7/8 x 2 1/4 - 28,8 Liter
Finneoppsett: 5-fin Futures (Finner selges separat)
Konstruksjon: Torq ACT EPS/Epoxy Pre-Preg med Carbon Fiber Filament.
Farge: Black Rail

Torq om Multiplier: 
The Multiplier is a performance board designed to multiply your wave count. We blended the tail from our high performance Thruster model with a wider slightly lower rockered nose, while keeping the rail and foil low.
The resulting hybrid catches waves easily, but also gains speed much more quickly than a traditional narrow nosed shortboard and with a razor sharp responsive tail to use it.
Comfortable in waves from 2-6ft this is an all round shredder that will maximise your surf time.

 
| | |
| --- | --- |
| DIMENSIONS | VOLUME |
| 5'8 x 19 7/8" x 2 1/4" | 28.8 ltr |
| 6'0 x 20 3/8" x 2 1/2" | 33.6 ltr |
| 6'4 x 20 7/8" x 2 3/4" | 38.8 ltr |
THE SCIENCE
Torq ACT surfboards are the world's first EPS/Epoxy Pre-Preg surfboards. The technological advantages are immense, but the most significant advantage is 100% controlled process with ZERO surplus resin.
On any surfboard the resin's function is to hold the fiber in place. It offers little structural integrity of it's own, little flex and little impact strength. As a material without the fiber it is heavy and brittle. Any surplus resin is dead weight - resisting flex, adding weight.
With Pre-Preg process the perfect amount of resin is added to the cloth by machine, before the shaped blank is laid up - zero surplus, zero dead weight.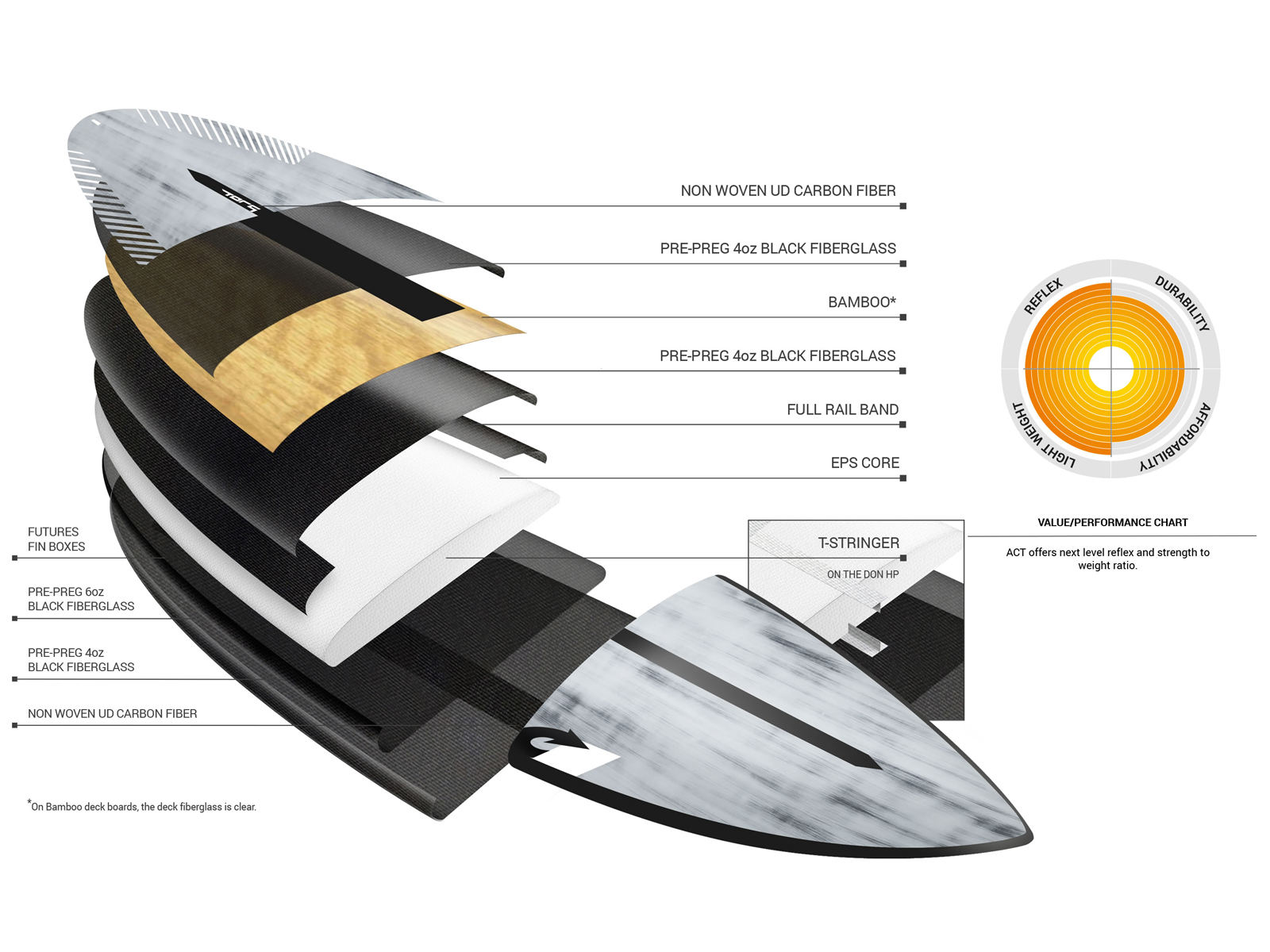 THE PROCESS
'Pre-Preg' means the glass fiber weave is pre-impregnated with resin and hardener (kept cold to prevent curing). This fiber resin material is called a Pre-Preg 'matrix' which is cured under high pressure and high temperature in a fully controlled environment. This 'baking' process results in the strongest form of laminate.
As well as controlling the lamination and curing process, Pre-Preg means the resin content can be 100% controlled - the perfect amount of resin is in the fiber on application.
It is the most controlled, most accurate composite fiberglass process, with minimal wastage.

 
THE RESULT
Greatest strength to weight ratio.
Typically strong boards are heavy and light boards are weak. Torq ACT board's have a super strong 6oz+4oz lay up on deck and bottom with an extra 6oz deck patch but they weigh around the same as a light glassed PU board.
Most importantly, they respond better. The feel of these boards is like no other surfboard - they are incredibly responsive. The unhindered flex and zero dead weight means all of the energy that you put through your feet is delivered into the turn with none of the 'deadening' effect from the resin.

 
FLEX vs REFLEX
The idea of flex in surfboard performance is really only half of the picture. Flex is easy to achieve and represents the loss of energy rather than the return of it. The important aspect of flex is reflex; the ability of a material to return to it's shape; releasing the stored energy.
Torq ACT's have a naturally unhindered flex due to the Pre-Preg materials which ensure no surplus resin, so the laminated fiber is able to perform with maximum efficiency. When pushed into a turn they have a natural rebound that projects and generates speed.
We have enhanced the reflex with strips of uni-directional, non-woven carbon fiber, the strongest form of carbon fiber, which has a much higher reflex rate. The boards feel powerful underfoot and re-bound out of turns - lively and lightning fast.
Torq Surfboards
---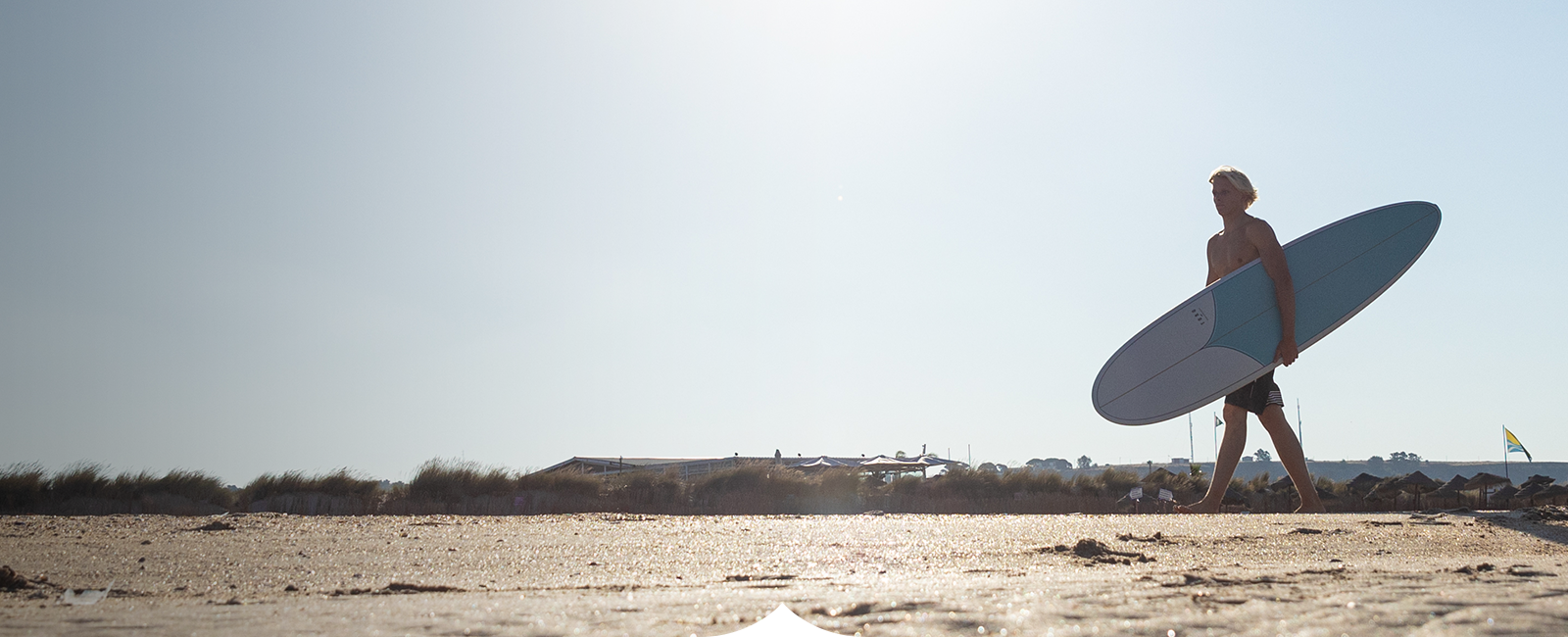 Launched in 2012, torq surfboards created a new standard in the epoxy surfboard market, offering an unmatched combination of strength and performance. This year sees the innovation step up a gear, with new shapes, new graphics a new collaboration with Channel Islands surfboards and the launch of the world's first EPS/Epoxy Pre-Preg surfboard. The torq range now offers 5 types of surfboard technology for all levels of surfer.
ACT - Advanced Composite Technology is the world's first EPS/Epoxy Pre-Preg surfboard. From Race Cars to Super Yachts, the highest performance components are all constructed using Pre-Preg materials and processes. It's the pinnacle of composite technology. The implications for surfboards are huge – more accuracy, less waste, perfect reproduction. However the greatest advantage is in performance through two main factors: Flex and Strength to Weight ratio.

Torq TEC - Torq Epoxy Composite offers a wide variety of performance shapes in our advanced vacuum epoxy lay-up. Using a mix of plain weave fibres and Carbon, these boards offer incredible durability for their weight.
X-Lite is a molded Epoxy technology developed specifically for performance boards. This is stronger and more Eco than a traditional PU/Polyester board. This new innovative technology is used exclusively on the Channel Islands models, the POD MOD and the all new Chancho.
Torq Epoxy Technology or TET represents a revolution in Epoxy surfboard technology. Built using the latest in EPS/Epoxy materials; the Torq Epoxy Technology combines a lightweight EPS core with Biaxial fibreglass cloth, Epoxy resin and our unique Shield Skin.
Our Soft Deck board uses an additional PE deck skin over a full laminated core to offer a safe first time learning option in this durable easy surfing range.
Kunder som så på dette så også på