Informasjon
Trick Board - Classic - Tropical - Balanse brett

Med et balansebrett fra Trick Board kan du trene på balanse, styrke og brettkontroll hjemme når du ikke er i vannet.

The original Trickboard-Board and roller has the German TUV safety certificate
Thanks to the properties of the Trickboard, you can:
perform an effective deep sensation training (proprioception) that allows you to increase control over your own body

train all muscle groups

perform training in a small area, e.g. in the living room at home

do an unlimited amount of exercises

have a great time alone or with friends
Trickboard Classic is a product proven by professional athletes who have confirmed the effectiveness of the board in motor training. Sight-spatial coordination and control of every part of the body are the key foundations of any sport, no matter what its nature. The set includes a board and a roller under it. The roller made of rubber leaves no traces on the parquet or other similar surface, and allows you to safely exercise without losing grip. Brakes on the underside of the board ensure greater safety while exercising. The board is covered with a non-slip surface on the top. You can use the trickboard in shoes, socks or barefoot - if you prefer :).
Only buy original Trickboards with a hologram on the bottom! The original roller is made of rubber, which makes it 100% safe and allows you to exercise on slippery surfaces such as parquet, tiles, panels, etc.

Technical description:
Accessory for practicing balance and motor skills

Suitable for both beginner and experienced users

Helps strengthen deep abdominal and back muscles

Helps strengthen joints and surrounding muscles

Perfect preparation for variety of sports: snowboarding, skiing, windsurfing, tennis, kiting, martial arts, athletics, fitness training, etc.

Safety stoppers

Original design

Board length: 87cm
Board width: 30cm (ends), 26.5cm (middle)
Board thickness: 2cm
Fulcrum dimensions: diameter-13cm x length-36.5cm
Board weight: 3.2kg
Fulcrum weight: 2.1kg
Weight limit: 120kg
Recommended age: 9+
Trick Board
---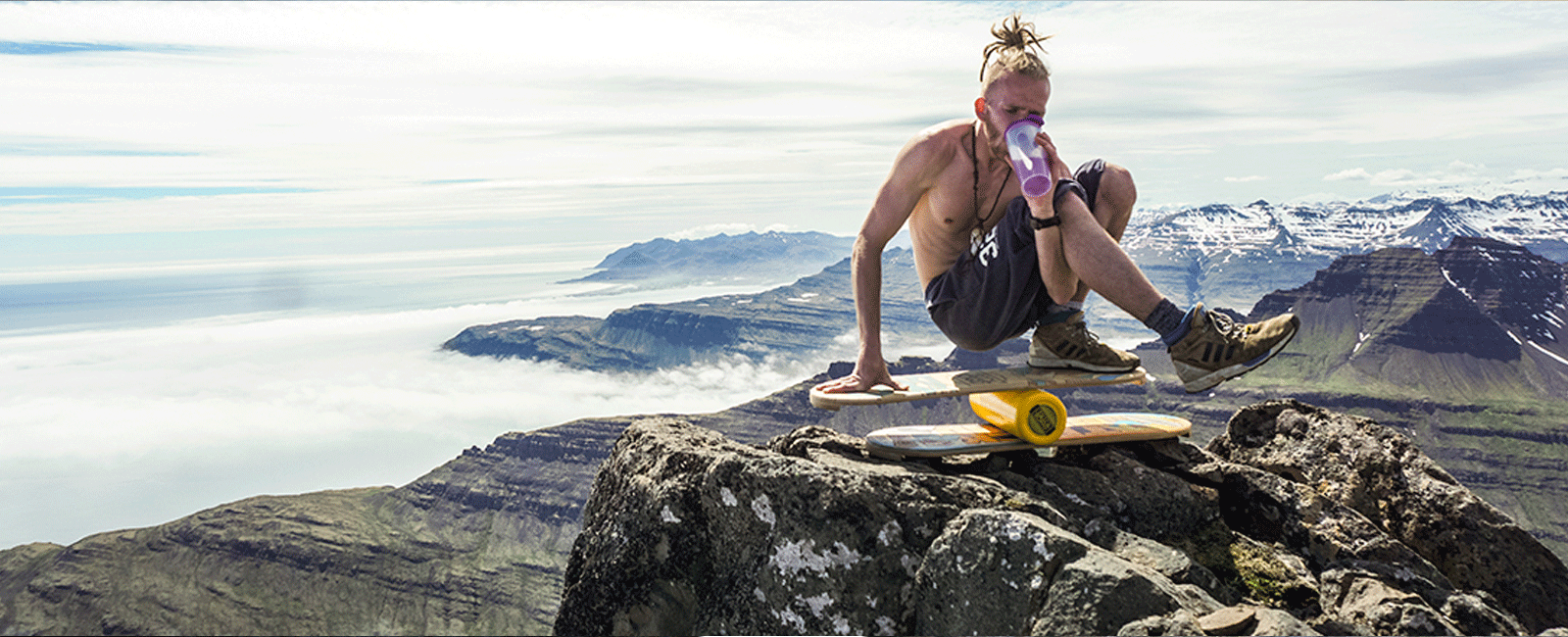 The original Trickboard-Board and roller has the German TUV safety certificate

It is an exercise and training device for people of all ages and levels of advancement, which enables the development of motor skills and increases the feeling of one's own body. It was designed in cooperation with high-class athletes. Thanks to their experience and through the use of the knowledge of specialists about the human nervous system, it was possible to create an innovative tool that allows to develop neuromuscular coordination of exercisers.

TrickBoard is a perfect complement to training in any sports discipline, such as snowboarding, skiing, windsurfing, kitesurfing, skimboarding, wakeboarding, martial arts, tennis, athletics, fitness and many others.
Kunder som så på dette så også på