Informasjon
Torq Epoxy TEC - 8'0 M2 Performance Minimal
Specs: 8'0" x 22" x 2 7/8" - 55.7L
Finneoppsett: 5-fin Futures (Finner selges separat)
Konstruksjon: Torq Epoxy TEC med Carbon striper.
Farge: Blue Rail
Har vi ikke din størrelse inne? Ta kontakt med oss.
"En performance minimal er et at de morsomste og mest brukervennlige brettene du kan eie"

Torq om M2:
LIGHTWEIGHT, MID-LENGTH PERFORMANCE
Performance minimal's are one of the funnest, most versatile boards you can own. Great for first waves, perfect for gliding small clean waves and with the paddle and pick up for larger or junkier surf.
Usually a performance minimal comes at a cost; the size of the board means to make it lightweight they are inherently weak and lose their responsive feel quickly or simply break. With the Torq TEC construction you get a lightweight board with all the strength of a much heavier one and much more responsivity.
Our combination of carbon strips on the top and bottom make these boards super lively and surf a lot shorter than their length.
| | |
| --- | --- |
| DIMENSIONS | VOLUME |
| 6'6 x 21" x 2 1/2" | 38.95 ltr |
| 7'0 x 21" x 2 5/8" | 43.9 ltr |
| 7'6 x 21 1/2" x 2 3/4" | 50 ltr |
| 8'0 x 22" x 2 7/8" | 55.7 ltr |
TEC MID-LENGTH Construction
The Torq TEC mid-lengths feature carbon stringer to the deck and bottom for a new level of torsional strength. Combined with 6+6+4oz deck and 6+4oz base, these boards are incredibly strong, light and responsive.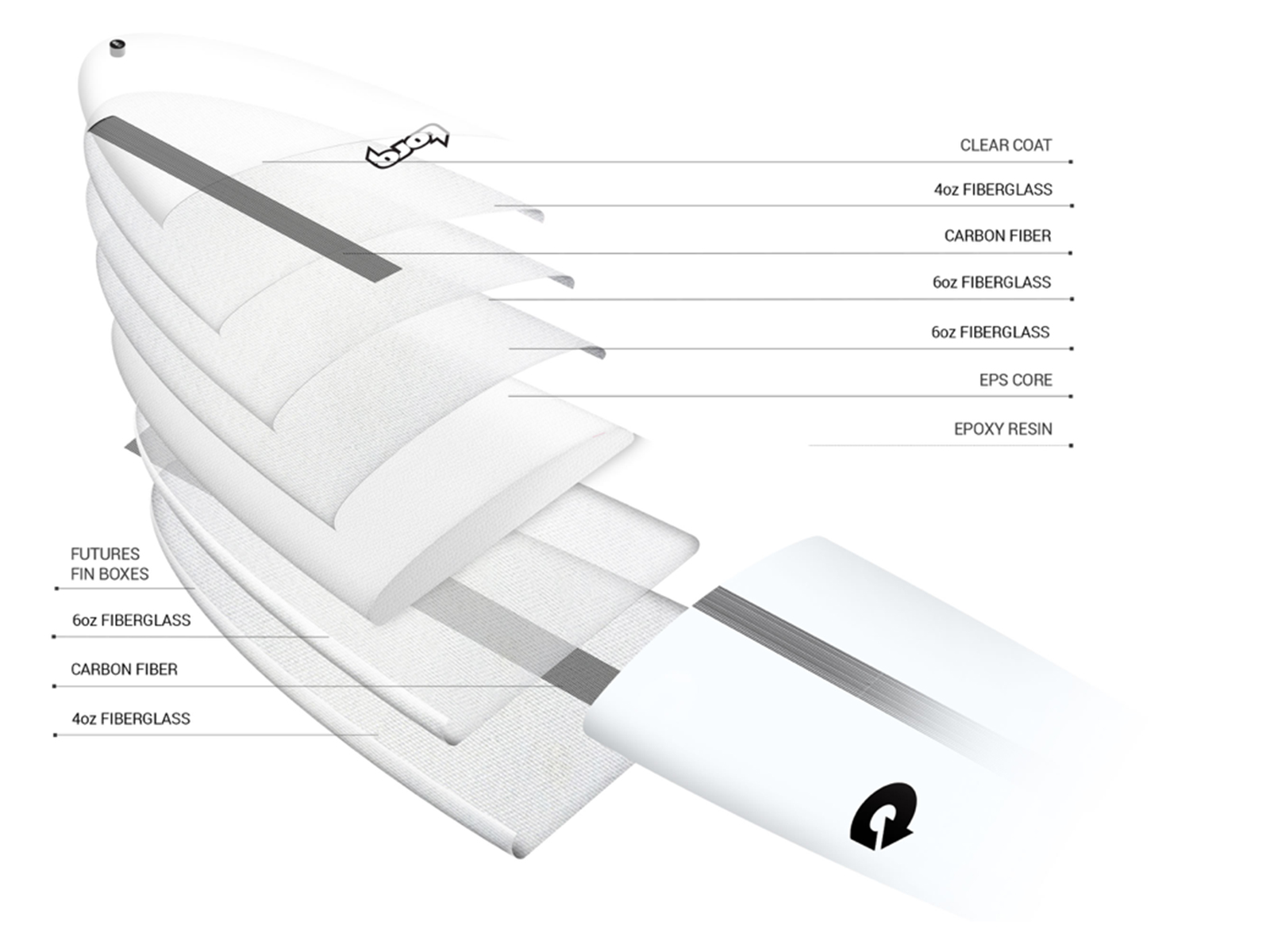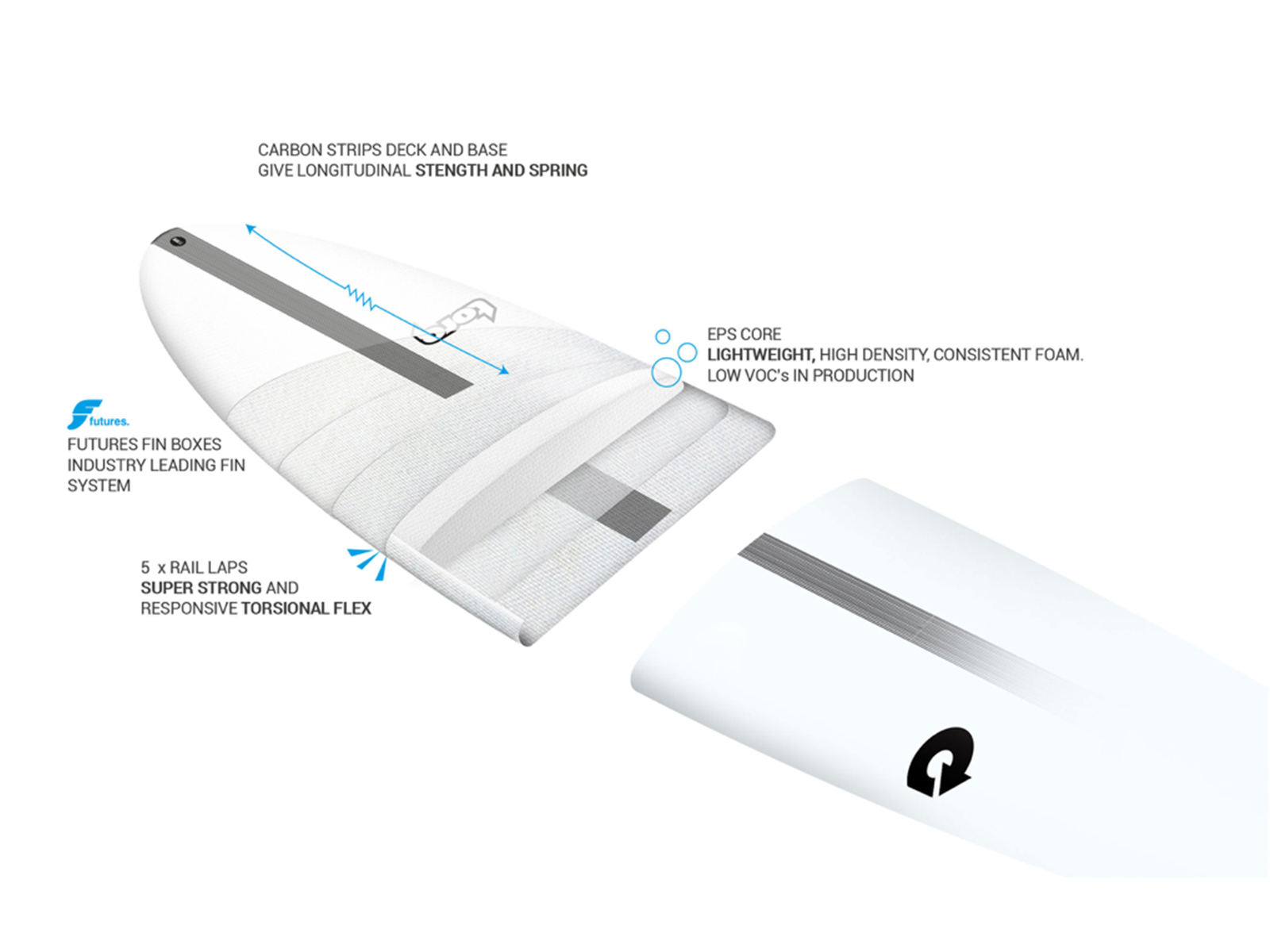 Torq Surfboards
---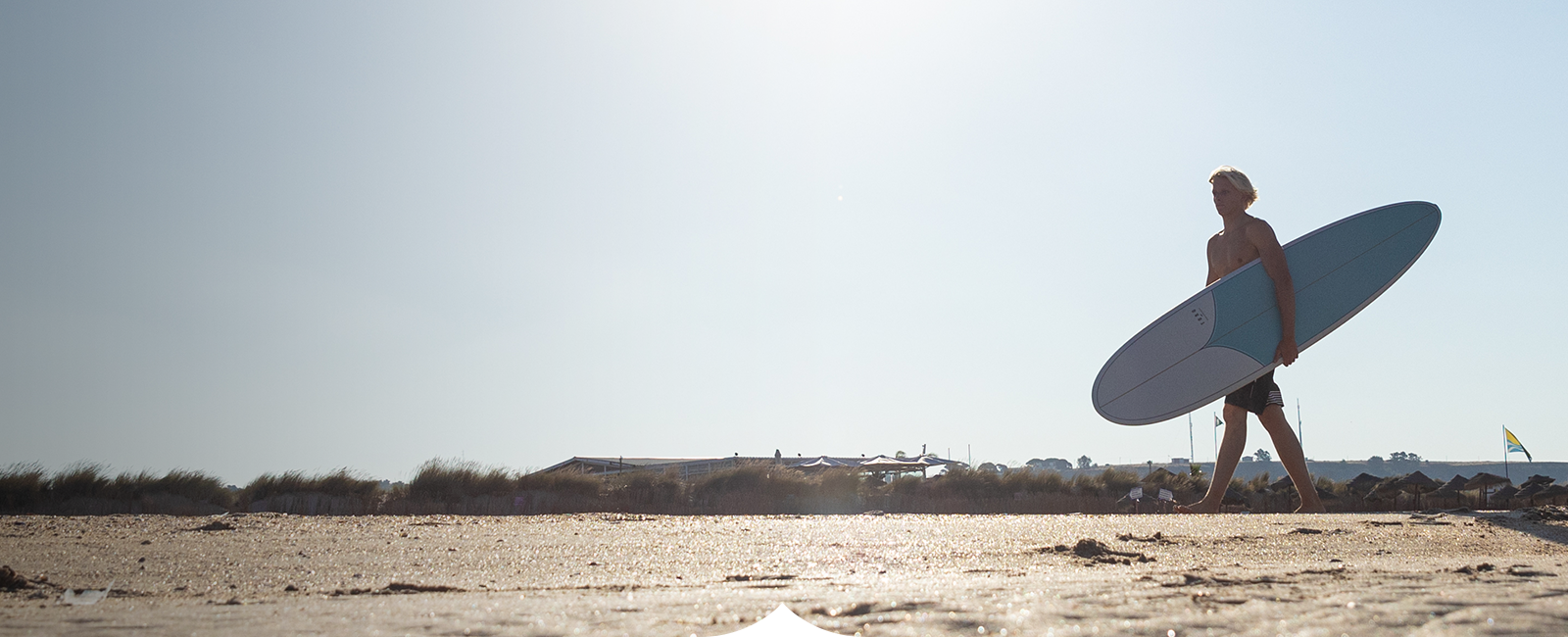 Launched in 2012, torq surfboards created a new standard in the epoxy surfboard market, offering an unmatched combination of strength and performance. This year sees the innovation step up a gear, with new shapes, new graphics a new collaboration with Channel Islands surfboards and the launch of the world's first EPS/Epoxy Pre-Preg surfboard. The torq range now offers 5 types of surfboard technology for all levels of surfer.
ACT - Advanced Composite Technology is the world's first EPS/Epoxy Pre-Preg surfboard. From Race Cars to Super Yachts, the highest performance components are all constructed using Pre-Preg materials and processes. It's the pinnacle of composite technology. The implications for surfboards are huge – more accuracy, less waste, perfect reproduction. However the greatest advantage is in performance through two main factors: Flex and Strength to Weight ratio.

Torq TEC - Torq Epoxy Composite offers a wide variety of performance shapes in our advanced vacuum epoxy lay-up. Using a mix of plain weave fibres and Carbon, these boards offer incredible durability for their weight.
X-Lite is a molded Epoxy technology developed specifically for performance boards. This is stronger and more Eco than a traditional PU/Polyester board. This new innovative technology is used exclusively on the Channel Islands models, the POD MOD and the all new Chancho.
Torq Epoxy Technology or TET represents a revolution in Epoxy surfboard technology. Built using the latest in EPS/Epoxy materials; the Torq Epoxy Technology combines a lightweight EPS core with Biaxial fibreglass cloth, Epoxy resin and our unique Shield Skin.
Our Soft Deck board uses an additional PE deck skin over a full laminated core to offer a safe first time learning option in this durable easy surfing range.
Kunder som så på dette så også på