Informasjon
The Stormrider Surf Journal is in fact three books bound into one, providing surfers with the ideal travelling companion to take on their next trip.
First up is the Atlas section, where 300 of the best surfing zones on the planet have been mapped and organised for regional comparison. Then the Planner unearths the perfect surfing destination for every day of the year, offering a world of choice for surfers trying to decide where to go when they next get some time off. Finally, the back half of the book or Log section is dedicated to recording surf trips, surf sessions and a sketchbook allowing endless freedom and options to build a highly personalised journal of a life chasing waves.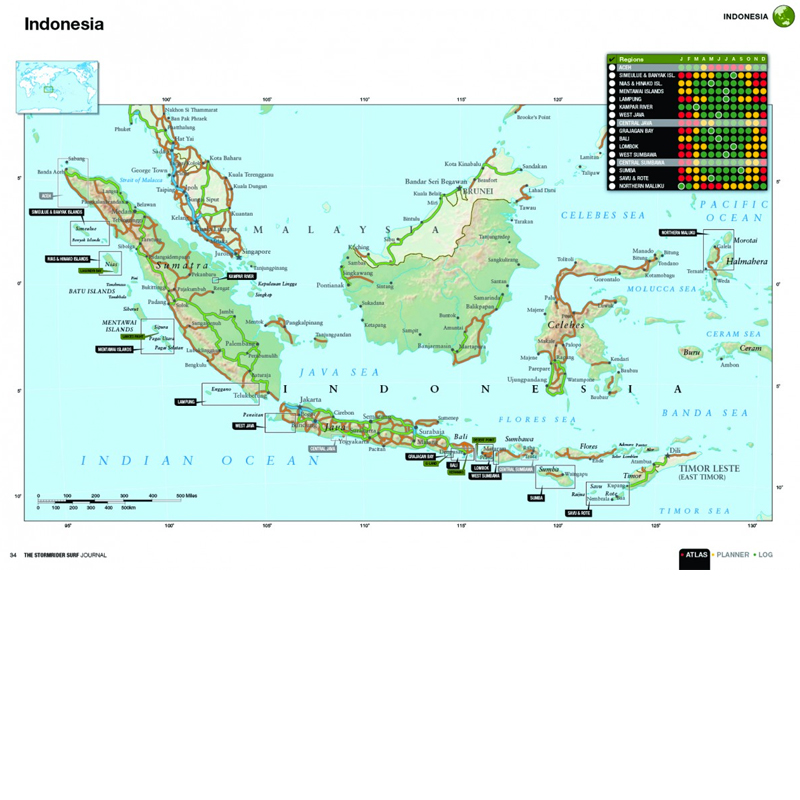 Low Pressure
---
Low Pressure is and always has been a company devoted to surf and travel. Expanding horizons and highlighting the potential of a world of waves is the whole point of our business. We have all been lucky enough to experience a huge diversity of waves, people and cultures on our own personal travels, so sharing the stoke of discovery seems to be the right thing to do.
Low Pressure Stormrider Surf Guides
The Stormrider Surf Guides have been the end product of this devotion. They are very slow to produce…sometimes too slow, but this is simply because we do not want to put out anything that is slapped together to make a quick buck…we surf and travel and we know what we want to see in a book. So far this seems to have worked as our Stormrider books are the best-selling and most well known surf guides in the world.

It's always difficult to get the balance right with a surf guide. Often considered a taboo subject we have done everything we possibly can to give accurate and comprehensive information without taking away the thrill of discovery. In order to do this, all our information is contributed by and double checked by local riders. If you feel we've crossed the line please contact us and give us your constructive criticism.

While presenting the surf info we try to remove opinion and personalities from the books to leave the hard and fast facts. The stars of The Stormrider Surf Guides are the waves themselves…all we do is try to present them in a clear and consistent fashion. One surfer's 5 star wave is another surfer's nightmare. The style is adapted to this approach – it is only a guide….you do the rest.
Kunder som så på dette så også på