Informasjon
Firewire - Seaside 5'7 Volcanic - Machado surfebrett
Dimensjoner: 5'7 x 21 5/8 x 2 1/2 - 33.6 Liter
Finneoppsett: 4-fin Futures (finner selges separat)
Konstruksjon: Helium Technology
Farge: Grey Volcanic
HEY ROB (MACHADO), WHAT IS THE SEASIDE..?
Just evolving the Go Fish to something new, really. The Go Fish goes fast and feels skatey and loose and I love it, and riding it for a couple years made me want to feel more high performance – more carves, tighter turns. So the Seaside is about refining… less area in the tail, narrowing the tips of the swallow, creating more curve and narrowing the nose. All elements for ripping while the Go Fish stays cruisey and fun.
The Seaside is quad only, why?
I decided that if i was going to make a quad I would make a quad that's strictly a quad … Design the concaves and bottom contours around that. I actually redesigned my entire concave setup that I've been using on the Moonbeam and Go Fish, and did it with the quad setup in mind so that it all works together.
Why name this shape after your home break, Seaside?
Naming surfboards might be the hardest thing to do on the planet [laughing]. It's just the perfect little stick when I surf my home spot, Seaside.

Volcanic Tech is made from Basalt Fibers Extruded from Volcanic Rocks that are crushed, melted and extruded into woven fibers that make up the cloth. The manufacture of basalt fiber requires the melting of the crushed and washed basalt rock at about 1,500 °C (2,730 °F). The molten rock is then extruded through small nozzles to produce continuous filaments of basalt fiber. Those filaments are then chopped into long stem fibers and woven into lamination cloth fiber. The cloth has similar characteristics to carbon as it relates to strength and weight however because the fibers are derived from Organic Raw materials, when combined with Bio Resins it serves as better degradable ECO alternative than using traditional carbon fiber cloth.
Basalt fiber is a relative newcomer to fiber reinforced polymers (FRPs) and structural composites. It has a similar chemical composition as glass fiber but has better strength characteristics, and unlike most glass fibers is highly resistant to alkaline, acidic and salt attack making it a good candidate for surfboard manufacturing.
Compared to carbon and aramid fiber, it has the features of wider application temperature range -452° F to 1,200° F (-269° C to +650° C), higher oxidation resistance, higher radiation resistance, higher compression strength, and higher shear strength.
The cloth can withstand high temperatures unlike carbon fiber and as a result is heavily used the Aerospace industry in the creation of rockets and and jet engines. The elasticity characteristics of this fiber is higher than that of traditional Carbon fiber allowing the board to have more flex for a natural feel under foot.

Board Dimensions
| LENGTH | WIDTH | THICKNESS | VOLUME |
| --- | --- | --- | --- |
| 5' 02" | 20" | 2 5/16" | 26.5 L |
| 5' 03" | 20 5/16" | 2 3/8" | 28.2 L |
| 5' 04" | 20 5/8" | 2 7/16" | 29.8 L |
| 5' 05" | 20 15/16" | 2 1/2" | 31.5 L |
| 5' 06" | 21 1/4" | 2 1/2" | 32.7 L |
| 5' 07" | 21 5/8" | 2 1/2" | 33.6 L |
| 5' 08" | 21 15/16" | 2 9/16" | 35.4 L |
| 5' 09" | 22 1/4" | 2 5/8" | 37.3 L |
| 5' 10" | 22 5/8" | 2 11/16" | 39.4 L |
| 5' 11" | 22 3/4" | 2 3/4" | 41.1 L |
| 6' 00" | 22 7/8" | 2 15/16" | 44.8 L |
| 6' 01" | 22 15/16" | 3" | 46.5 L |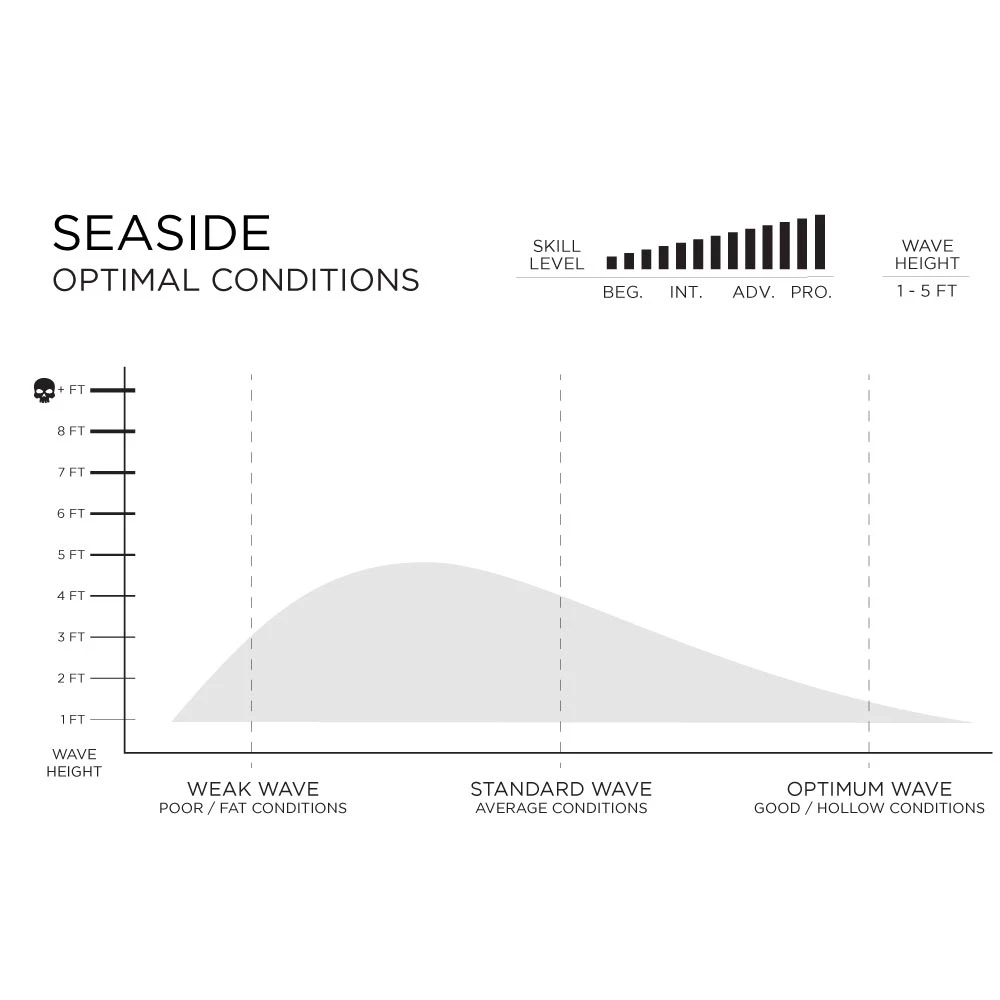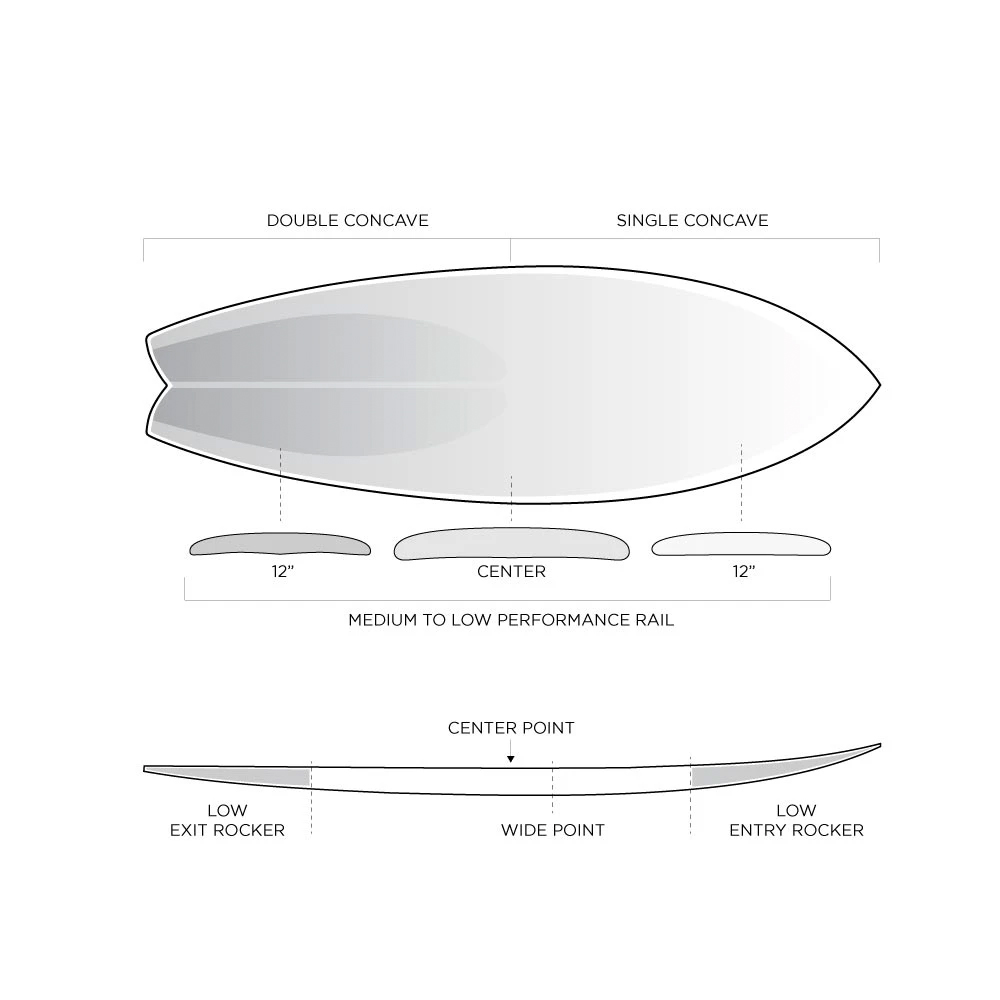 Firewire
---


Firewire Surfboards has quite a fascinating history thanks to the man behind the boards, Australian shaper Nev Hyman, and has become one of the most well known surfboard manufacturers of epoxy surfboards. In 1975 Nev started Odyssey Surfboards in Perth, West Australia. After some traveling Nev changed its name to Nev Surfboards in 1981. From here, Hyman began to design blanks for some of the best surfers in the world. Gaining much experience, Nev began to hone his craft and feel for the perfect surfboard. By 1998, Nev Future Shapes was the new name, Hyman's business was now in the global market, and was producing over 5,000 boards a year with his crew. Starting in 1989, Hyman began to get involved with computer shaping. He became quite involved in the general acceptance of the practice and began to seek his 'Holy Grail' of machine-shaped surfboards. Around 2004, Hyman met Bert Berger and was introduced to his high-tech, handmade surfboard that included balsa rails, and a high-density composite top and bottom.

By early 2006, Firewire Surfboards were making their appearance in the lineup. These boards were completely created on a CAD/CAM software allowing for a perfect board to be consistently created without variations in shape. The designing is done by Dan Mann and Nev Hyman on a 2D program called AKU Shaper. A master is cut out on an AKU CNC Shaping Machine and then examined by Hyman and fixed to his standards.

The blank is then transformed into a 3D drawing on CAD modeling software. Here, all parts of the board are created in 3D including rails and stringers. The 3D model is then sent to Firewire's factory in Thailand, where the final surfboard is created under strict guidelines.

Slater Designs
"I'm not sure if the perfect board really exists, but I'm enjoying the freedom to collaborate with some of surfing's most innovative shapers and designers. It is a quest to create something different in a slightly different way that appeals to where I want to go on a wave. Discovering a new feeling under my feet, drawing a new line, or taking a completely different track on a wave is something I never stop dreaming about. Now being able share and grow that idea with others is what keeps surfing fun for me." -Kelly Slater
Firewire
Firewire is dedicated to elevating the surfing experience through innovative design, new materials, and advanced construction methods. In collaboration with surfboard designers like Rob Machado, Dan Mann, and Wingnut, our aim is to maximize stoke in our oceans and minimize waste in our landfills.
Tomo
Push the envelope. Watch it bend. Two sentences describing Tomo's approach to surfboard design, seen clearly in every shape he's made since the Vanguard in 2012. Backed up by high level surfing talent and mentoring from some of the surfing's most legendary surfers and designers, Tomo has developed a 'sixth sense" for developing some of the most radical and unique performance surfboards ever, for example, the Cymatic for Slater Designs.
Volcanic Teknologi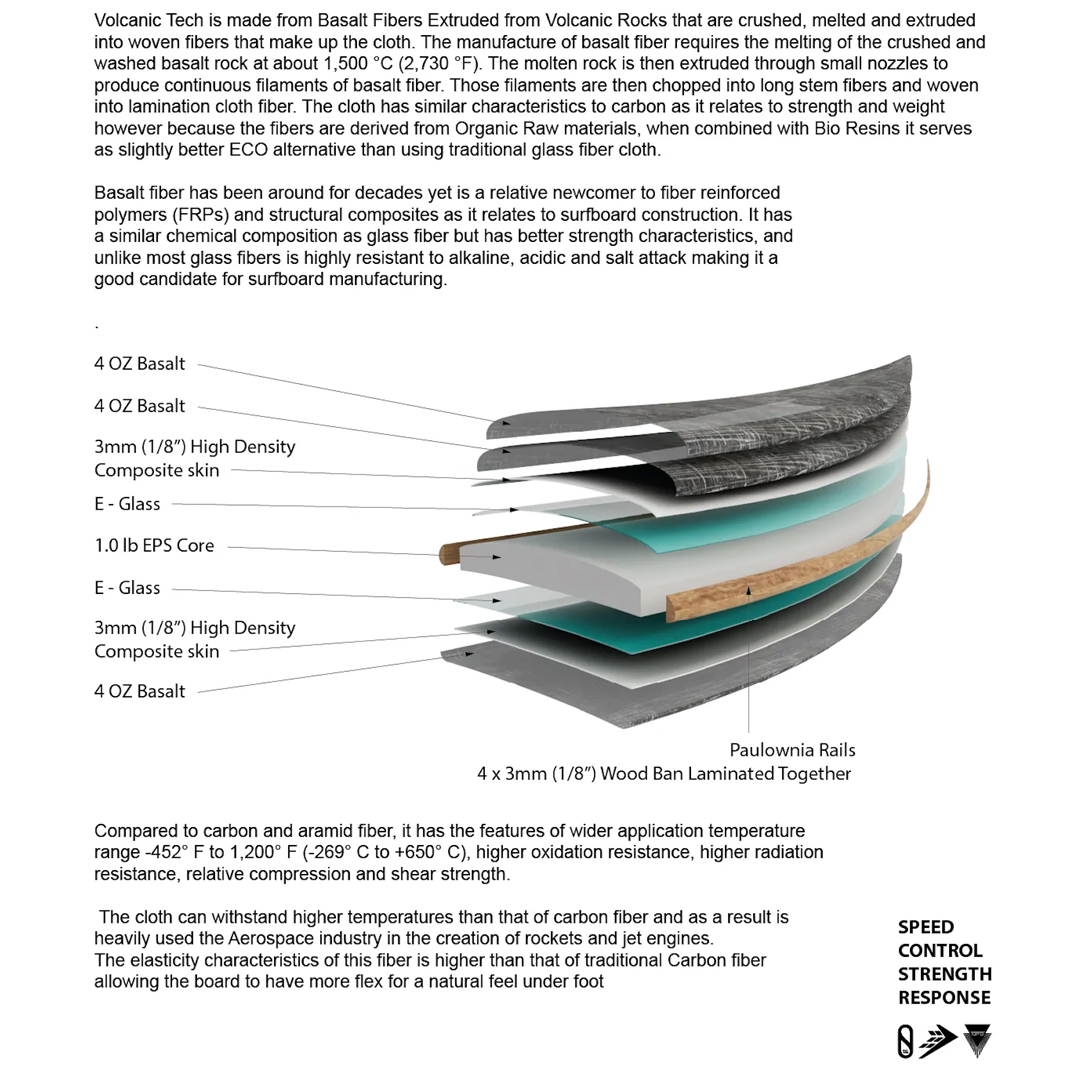 Kunder som så på dette så også på