Informasjon
Endorfins Kelly Slater Twin + 2 - Double
Finneoppsett: Twin Fin + Trail (2 twin finner + 2 små trail finner inkludert)
Finnesystem: FCSII - Double Tab
Farge: Black - Blue
Konstruksjon: Airtech
Designed by 11 time world champ "Kelly Slater"
The 'Twin + 2' is Kelly Slater's latest addition to his ENDORFINS fin line – a Twin Fin set packaged with two separate trailing options for the thruster box.
 From Kelly: "I started surfing on twin fins and obviously as surfing transitioned in the early 80's to thrusters, I went along with it. Over the years I have dabbled in twin fins, but only recently have I spent much time really refining board and fin designs for a performance twin. This fin design is what I settled on while wanting tight, in the pocket surfing and not the feeling of having too much fin."
 Setting this self-designed Twin Fin / Trailer combination apart from others in Kelly's history is optionality - the two twin fins come packaged with two separate trailer options; the larger 'Stabilizer' trailer enables more drive and hold while the smaller 'Guitar Pick' trailer creates a freer experience, with less directional drive and more slide, second only to the uninhibited lateral freedom of surfing the Twin + 2 as a pure Twin Fin.
 Each trailer option can also be used together with any other fin set, for example the Stabilizer or Guitar Pick can be used in the thruster box of the KS1 Quad set.
 Regarding the Twin + 2 template shape and size, Kelly says he believes in "The smaller the wave, the larger the fin theory" describing the way that small wave surfing benefits from larger fins with high surface area, but as a fin designer, he's also mindful of all-around performance, continuing that: "I wanted something that would also handle higher speed waves. This template provides me the best of both worlds, being enough in a small, flat wave (especially with the hybrid thruster trailing fin options) and not too much fin at higher speeds."
 The Twin Plus Two is at surf shops and online stores globally, and listening to Kelly, it sounds like this fin set will be an increasingly important part of his fin quiver in coming years.
"Twin fin surfing requires a different approach to using the rail and pushing or holding back a touch on your turns and I believe it's an essential board design for everyone's quiver. I foresee myself spending more time in the remaining years of my surfing riding twin fins than traditional performance boards and it makes me excited for small wave surfing more than I've felt in years. "
 FIN DIMENSIONS :
TWIN FIN
AREA | 13500 MM SQUARED
BASE | 130 MM
HEIGHT | 137 MM
REAR STABILIZER FIN
AREA | 4980 MM SQUARED
BASE | 99 MM 
HEIGHT | 75 MM
REAR GUITAR PICK FIN
AREA | 2840 MM SQUARED
BASE | 98 MM 
HEIGHT | 45 MM
Endorfins
---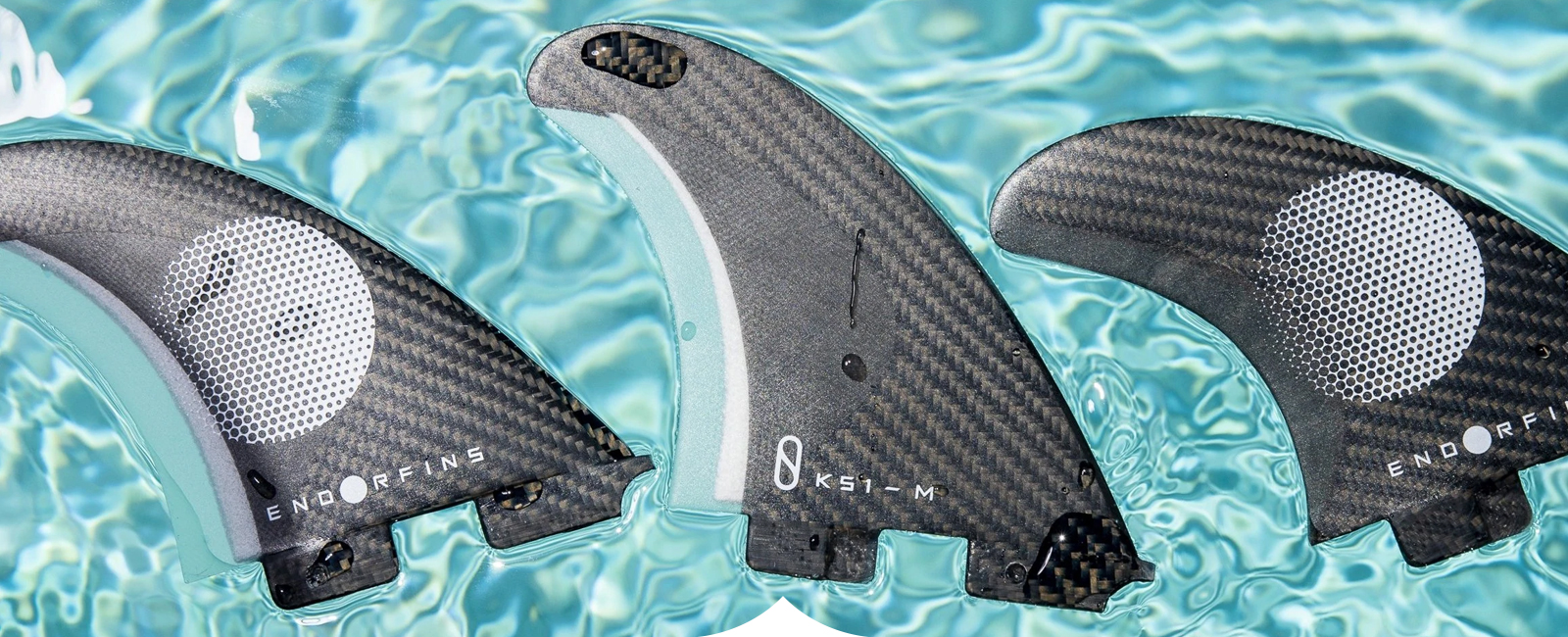 Kelly Slater has always had a deep relationship and passion for fins being that they are a critical component of board design and performance. We wanted to bring this to life by launching a fin brand driven by Kelly's vision of performance and eco responsibility. We believe as surfers we have a responsibility to make fins as eco-friendly as possible and ensure we keep our ocean floor free from "Lost and Broken fins". Endorfins are designed to be screwed into the fin box to secure the base of the fin and allow the carbon flex patterns to truely come to life. In addition, we have also designed the fins to float so they can be retrieved from the ocean if needed. Each set is built with a base that is compatible with either FCSII or Futures boxes. The Futures compatible base on Endorfins will work just like a fin built by Futures with a Futures base. The FCSII compatible base will require two screws that will come with the fins. Endorfins with FCSII compatible bases will not click in and click out.

The design of these fins are the culmination of Kelly's many years and extensive experience with a variety of designs and templates. This unique flex pattern is created by a carbon twill, layered with an ultralight carbon veil over a P.E.T core. The P.E.T core is majority air resulting in Fins so light they float on water. Combining that knowledge, and several rounds of testing and adjusting over the past year and a half, we are excited to present Endorfins to the world.
Kunder som så på dette så også på