Reisebrev: Janenne og Darren besøker Norge for første gang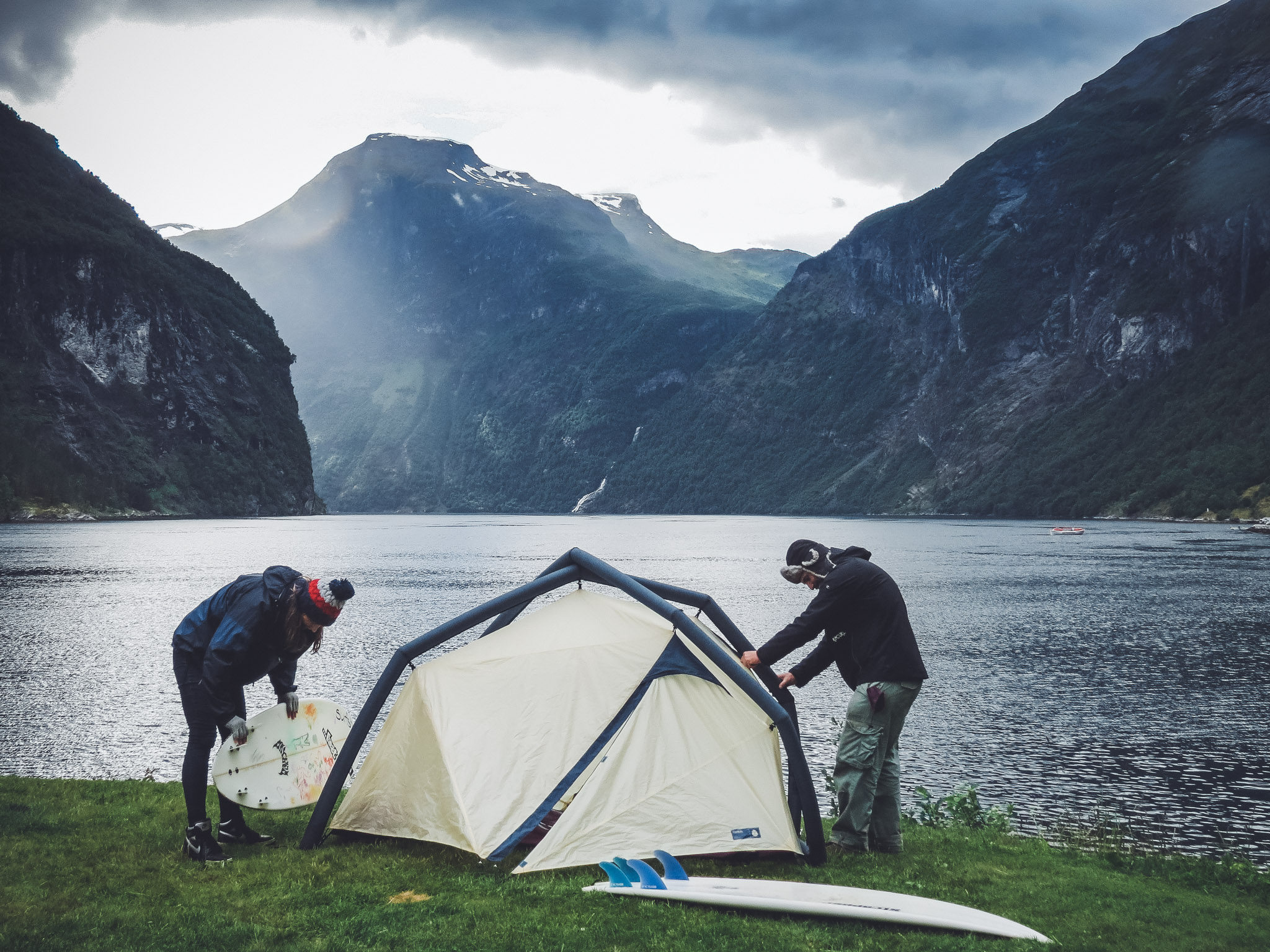 Janenne og Darren kommer fra Victoria i Australia, et lite steinkast fra Bells Beach. De ankom Norge etter noen uker i Korea, uten veldig store forventninger eller planer. Etter en hyggelig prat og en morgenkaffe på kontoret her i Ullernchausseen 119, var de klare for å sette kursen vestover med bilen pakket med surfebrett, tykke våtdrakter og et demotelt fra Heimplanet.
Les deres herlige refleksjon av turen her: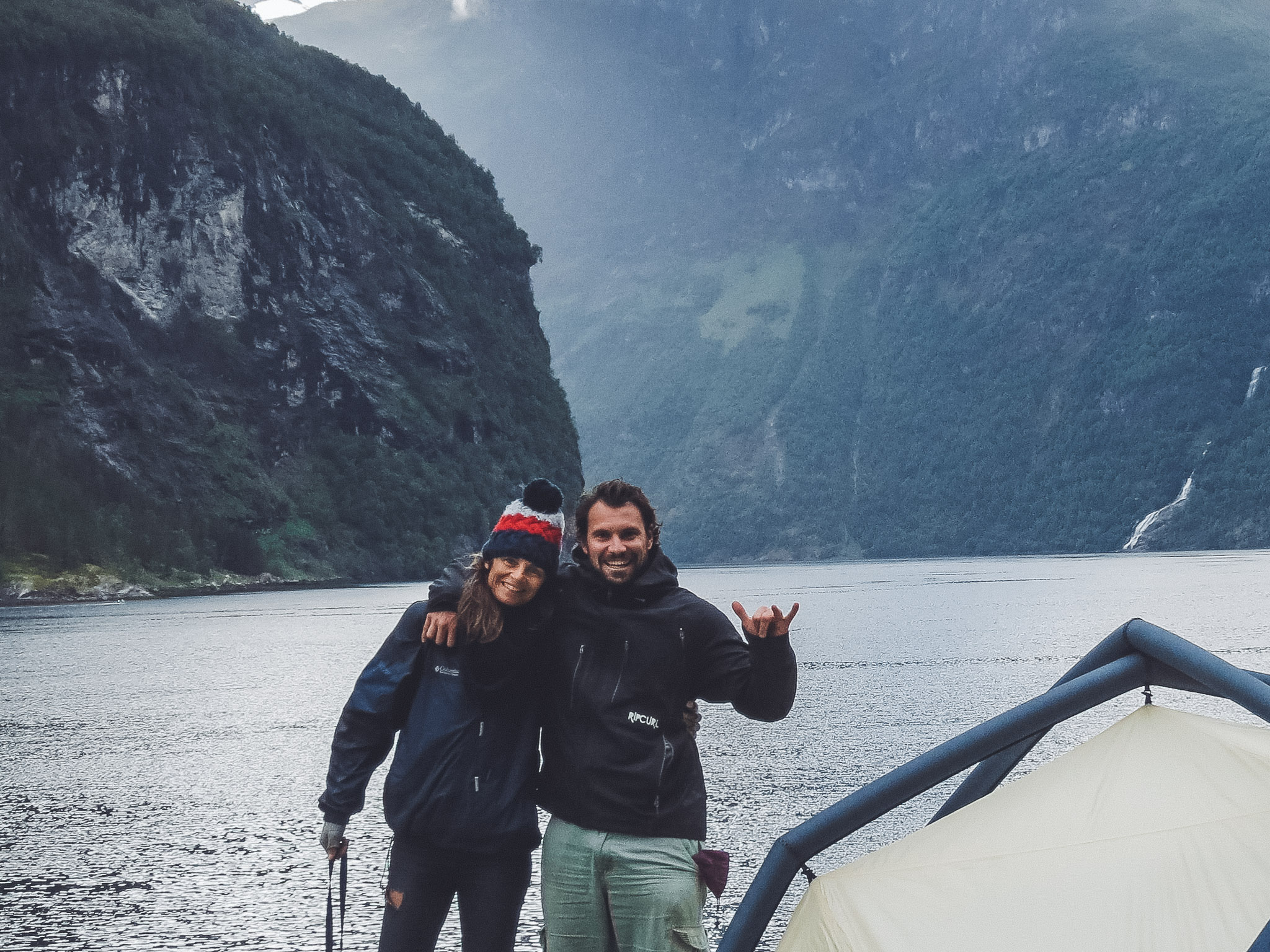 Touching down in Oslo was easy, for what her modern infrastructure and clean well maintained roads would allow, controlling my wondering eyes in downtown 'Grunerlokker' was not.
An old friend of mine had once warned me about the quality, diversity and abundance of beautiful birds in Norway and he was not wrong . . . I could loose my mind in this place I thought to myself struggling to restrain every single wild thought as my neck swirled and my head swelled sipping golden amber ales late in the afternoon on a prime European summertime street in the sun.
Fast forward 12 hours, past rolling down that same street, midnight souvlaki in hand in broad daylight, laughing for days with my gorgeous girl, epic room with a magic view, golden light, back on the street after breakfast and picked up by Wes, the old mate in question...
It had been about 7 years since I had seen the big 'Norsky' and nothing much had changed. As I would later unsurprisingly find out, he was still sipping espressos in a scarf and ripping man sized hacks and drop tail floaters off unsuspecting European wedges.
It was so good to see him. Fast forward 1 more espresso double and a short loop car ride and Janenne and I had blissfully found ourselves standing in one of the coolest grass roots spaces imaginable.
Apon climbing down the stairs and into a beautiful old house basement, we began to our amazement smell the distinctive and unmistakable sweet perfumes of fresh wetsuit rubber and fiberglass resin. A strange yet familiar mix and sure enough to our complete surprise and not to undermine our senses, we were both shocked instantly realising that we were actually entering a surfshop. An underground surfshop in Norway? I could not believe my eyes . . .
Would you like a coffee Seamus says? I was gob smacked. It was a warm, genuine and welcoming place. Seamus and Espen were incredible individuals with a passion and we soon realised that this was a true community. We felt and were welcomed in with open arms.
The height of my Scandinavian pride came when Wes swiftly threw across a surfboard a glossy edition of 'Nordic Surfers Magazine' and have a guess who was on the cover. I could of kissed him ha ha I was so proud and it all became a little overwhelming as the boys then proceeded to hook us up with wetsuits, boards and a self inflating tent . . . A much needed item for our historically unfavourable foreign exchange rate would soon have us eating sardines and sleeping on the ground. But we were ready, excited and ready.
I was still buzzing and delirious laughing uncontrollably at the big 'Nords' picture on the cover in an icy Norwegian tube. And Janenne was over the moon too, now well equip with 6 mm booties and a 7/6 mm wetsuit with a built in hood. She had previously retired an old faithful surfboard in Taiwan and had only ever dreamt of surfing this far north…
The smile on her dial and the glimmer in her eyes, priceless for the dream was becoming a reality. We had come a long way looking for the midnight sun.
The midnight sun you ask? Well, it is only rumoured and of course a purely fictitious name, but one that has swiftly stuck. It refers to an illusive mystery sub artic wave that we have imagined finding and as it was now turning out, were one step closer to finding out...
And so there I excitingly stood deliberating surfboard dimensions with Wes and the boys, checking forecasts, wile Janenne was given the very best set of road map instructions. Not only was seeing one of my closest mates so dialled in on the other side of the planet so absolutely incredible but also having the boys at 'surfshop.no' dial us in, made it beyond words incredible. We were all set.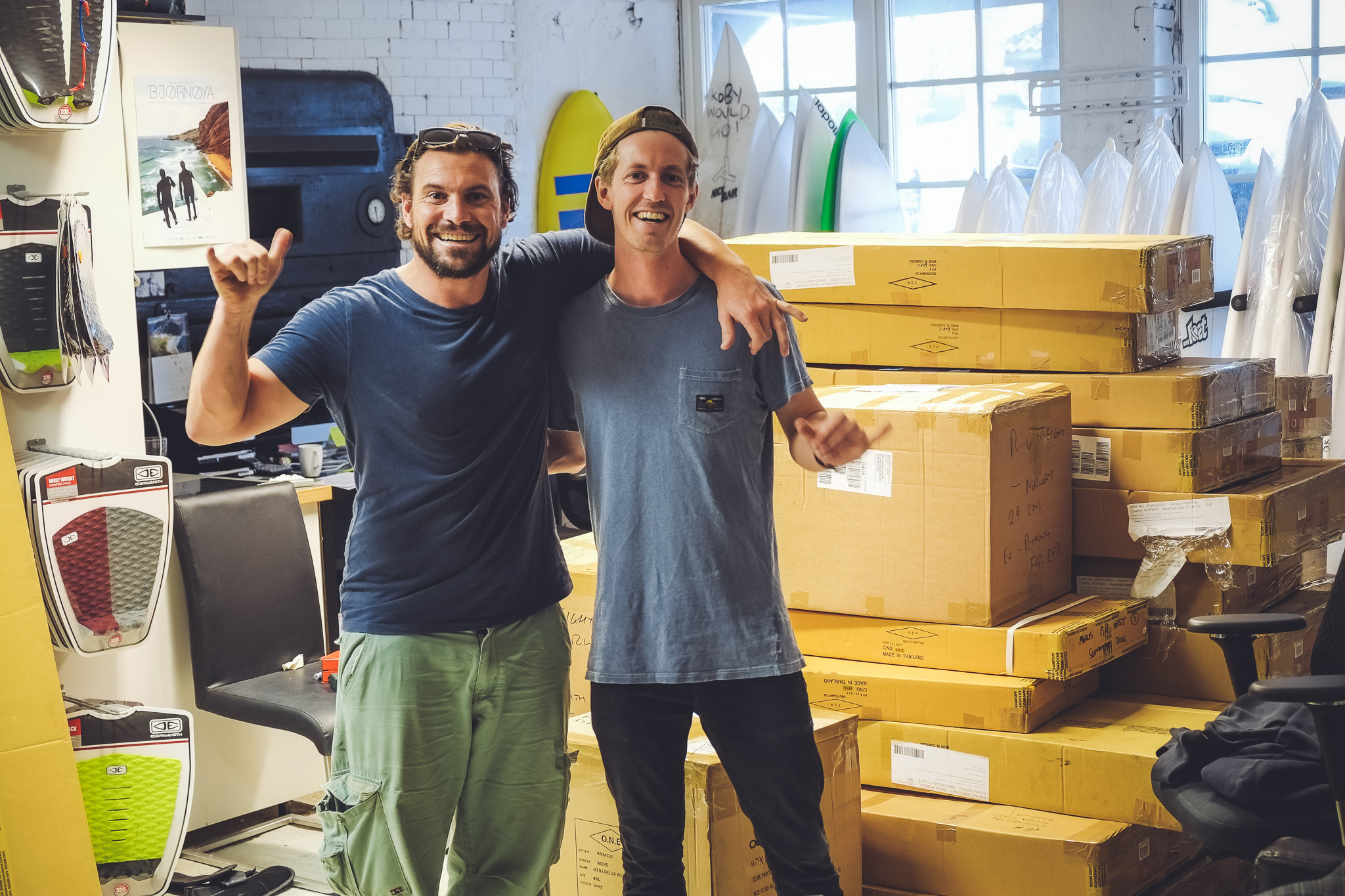 Reflecting in the moment I imagined. It really was what it must have been like to go down and hang out in the early and emerging days of the original surf shops back home in Australia. A hot cuppa on the balcony while talking about board design and predicting weather, just timeless.
We had to come a long way north to get back to such roots but what we were experiencing was the true community of surfing and spirit once again. Although the landscape is cold and inhospitable the surfing community in Norway is anything but . . .
There are always exceptions of course, and while flying over Finland looking down and also looking in detail at the map of Norway's infinite array of gully's and Fjords, I have no doubt that hard core locals and adventurers' alike have stumbled with time and sheer perseverance apon and discovered entirely new slabs, keeping their location much like old seasoned fisherman, tightly under wraps.
They are guarded in general the old Norwegians, and like to keep to themselves, the only major issue with surfing this far north however is the harshness and isolation of the waves, the weather and the environment. No wonder Wes and a few others in the know at 'surfshop.no' all surf together. If you damage yourself badly enough over hear, you may not make it home for salted fish and hotdogs.
And so, after much laughter, a few shukkas and one huge hug we leave the magic of the Norway surf shop and head down the coast. Yes, I hugged Wes. I could not let him go after that ha ha
So there we were, 3 Australians heading towards the southern Fjords. Fast forward a few more hours and please note and I repeat: Norway is large! If the sheer size is not mind blowing enough then it must be the terrain and nothing is flat. This is really a country of undulating extremes, in snaking curves and distance. And that is not including the extremes changes in weather.
No wonder ... Edvard Munch's 'The Scream' is so terrifying, between the months of darkness and snow, sheer size and isolation, not to mention the brutality of historic conquering tribes, Norway was no place for the faint hearted. The landscape is stark and it is dramatic . . .
1 x ferry crossing in the pelting rain and a few hundred kms later and we arrive at what can only be described as a picture perfect Canadian/German style camping ground. Late afternoon, in blazing sunshine? Case and point!
Nestled into the base of a smooth volcanic cliff sat the pristine windswept grasses of happy Norwegian summer campers. Apon seeing the wind I think Wes was a little worried at what Janenne and I might think. It didn't matter at all, I had a 5mm wettie, booties and my trusty 'Strapper' quad and this was as far north as I had ever surfed. We were pumped.
Slowly snaking the car down towards the beach past pristinely manicured Norwegian motor homes and caravans with little white picket fences, each with their triangular Norwegian flag proudly representing a national lifestyle tradition, I could not help but loose my mind when in the distance I could see, only naturally, almost on top of the beach a 1960's style caravan with a difference.
At that precise moment, Wes turned to me and asked the question, "So Dazzling which one do think is ours?" If the AFL 'Sherrin' lying idle in the grass did not give it away it was a Webber BBQ sitting on the side deck! I loved him even more! Not only was the man pioneering and charging icy slabs he had also carved his only bit of Australia into an otherwise entirely uniform and rigid Norwegian dream. We parked the car and were all frothing, it was 8.33 PM and their was surf . . .
Racing up to the rocks and looking out was an experience in itself. 100km onshore winds and spray greet us in an un sympathetic and abrupt style. . . It looked like 'Kerferd Road' pier on steroids…. A short period windswell that has raced up and funnelled into a Fjord. I cannot believe I am putting on 3 mm booties a 5/4/3, hood and zinc all at the same time. I was so pumped. I think to myself. And it was a classic! Solid 4-foot wedges in the 9pm sunshine . . .
Beyond a doubt one of the most memorable surfs of my life to date. I lasted about an hour, there was no snow but you could see it in the distance. By the time we all came in, threw some fresh salmon on the BBQ and sat back eating hotdogs and drinking beer it was 12 midnight, still full light.
One thing on the light. It really was a novelty at first but the more time you spend up here and further north you get the stranger it becomes. Like the darkness is a natural circuit breaker you see. To have both day and night is a natural balance for the mind and the body. And like they say, too much of anything is never a good thing. Too much light is like slowly seeping into a weird and wild dream.
Deep into a strange reality where you slowly become chronically tired. A timeless phase where there is no body clock, there is nothing to gauge but what seems to become an endless series of moments, like cards being displayed, one after the other with no beginning and no real end. With no beginning and no end, just one continual day and daydream.
A really incredible and unique phenomenon but one that can make you a little strange, goodness knows how the Scandinavians live through winter on the flipside. I was still pouring milk on my cereal at 11.44pm last night.
And so, after our unforgettable introduction and camping with Wes experience it was time to say goodbye and go on road trip. Janenne had been incredible in organising and researching places and bore the brunt of both Wes's eccentric landlord and the more balanced and wonderful Seamus to pencil down a desired route.
We were to head North/West and surf again, entirely frothing after our very first Norwegian Fjord session. And so off we began . . .
With no idea we soon realised the extent and length a breadth and size and distance of Norway. It was brooding weather driving rain and dramatic. I will never forget the soundtrack and 2 incredible introductions, first the self titled album 'Django Django', look it up, it is incredible, coupled with 'Brant Bjork'…. Secondly it was Scandinavian caviar well more to the point Swedish Caviar 'Kalles', we lived off it and I became pretty addicted…
And what is a Scandinavian road trip without a soundtrack and fish paste, for the soundtracks mark the moments, a series an irreversible silent impressions, absolutely and entirely unforgettable and the fish paste, well that just stains, ha, ha.
One more thing, the continual daylight can not only make you a little trippy it can completely throw your road trip plans, as we would soon naively find out, sideways astray, completely off coarse.
You see, usually when you would drive long distances on a trip and slow up, even look for a place to sleep late in the afternoon or early evening, which in any other none Scandinavian country maybe around 4 or 6, or even 8pm, it would be ok. Not in Norway. We had no natural time to gauge and so we drove and we drove, all the while awe struck, past sweeping fjord bends, underneath jagged and vertical mountains, jaws dropped, just buzzing.
And we drove and we drove again, over high mountain plains, past snow and rain, we drove and we drove until our eyeballs were popping out of our brains and we had to sleep. The first night, just rolling into a little park right beside a giant lake as still as a mirror it was 12 midnight when we stopped. Like I said, you would not know. To our left were snow-capped peaks draining down rocky cliffs and flooding waterfalls and to our right pristine mountain pines.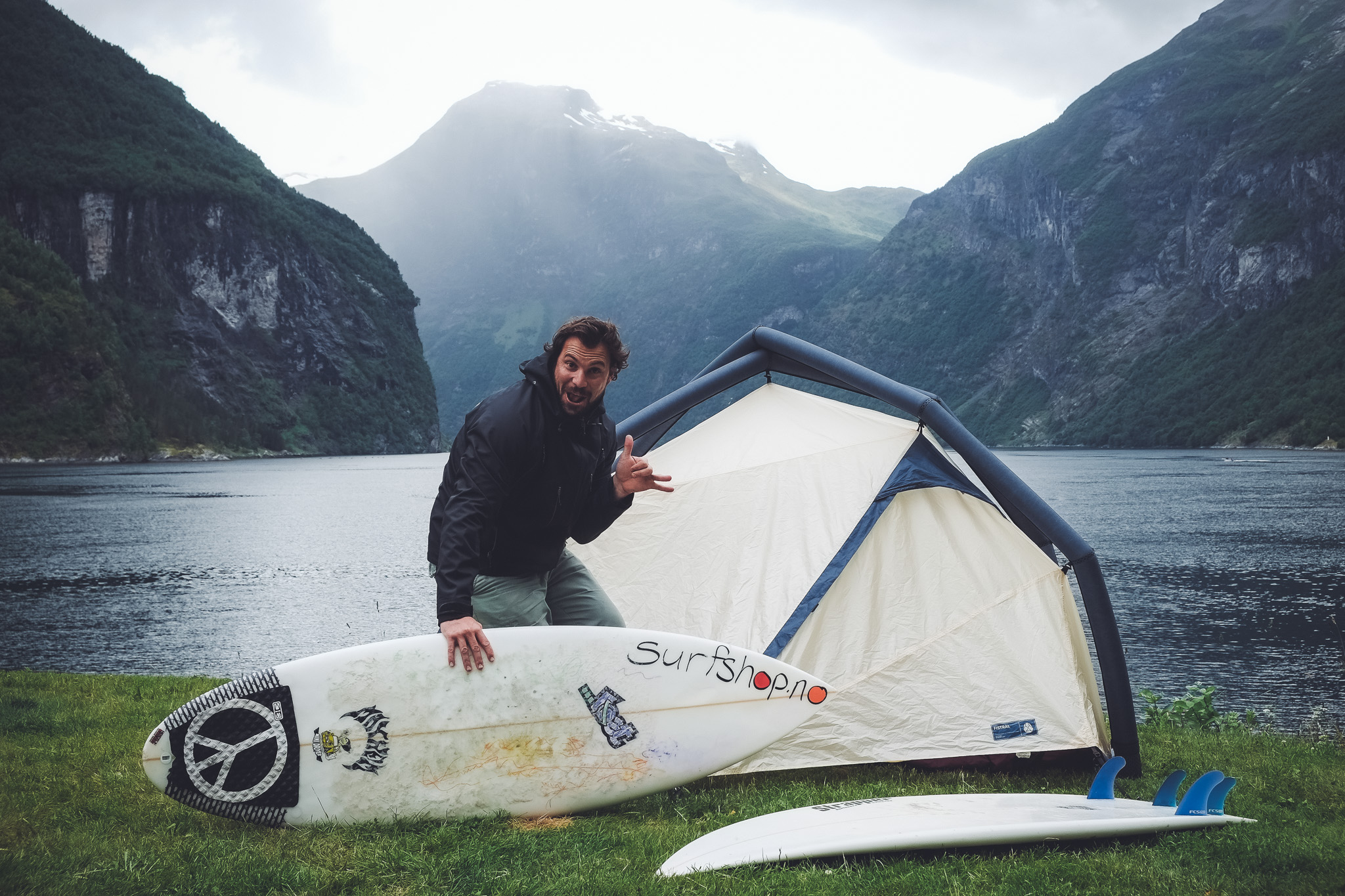 Board bags on the wet ground first, tent down second, then 6/7mm wetsuits on top of that, then thermals on, then tucked into sleeping bags, hood and all the rest. We were camping for one reason, budget had been spent on car and eating fish paste from the supermarket, ha, ha . . . The exchange is not amazing for Australians this far north and so you prioritise and do what you can . . .
Bang, up first light, which was really last light, which is the same light as last night and on the road again . . . Entirely awestruck and amazed after some hours we find ourselves on top of a mountain in the rain and there was a fork in the road, our loosely sketched instructions could take us no further.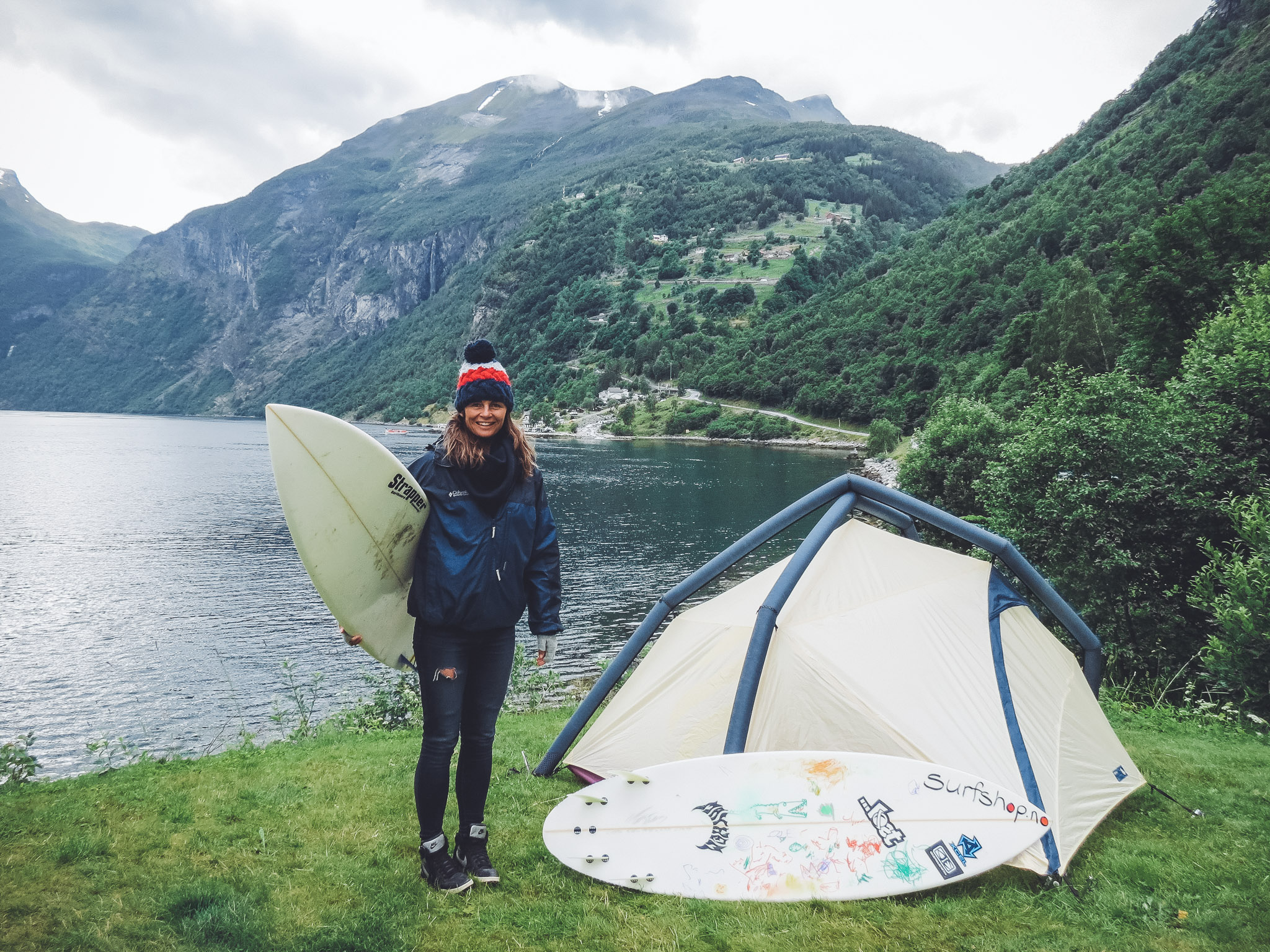 Which way, left or right? Left, ok then, off we go…
And so began the mindless and breathtaking descent into 'Hoddevik Bay'. On narrow country roads, past quaint little red rooved farmhouses, past curious livestock, we eventually make our way down into the sea and it was spectacular.
Meeting such a dramatic and beautiful scene was just overwhelming and once more there were waves but not big enough. . . We had heard about a little beach just around the corner that might pick up a little more swell and I was keen to sniff it out. After some serous excitement we then crawl all the way back over the mountain top and down into another deep Fjord valley, finally resting the car at the sands edge in front of an old graveyard.
It was absolutely picturesque. Not in the pretty warm sunny happy postcard sense, it was picturesque in the stark extreme cold blunt unforgiving sense. Like everywhere we looked were echo's of a landscape that was harsh, that was ancient, that stood chiselled like the cold steel and blunt wood of the original Vikings that had sailed right onto the beach and pulled up their ships. The graveyard was just the spellbinding icing on the proverbial volcanic rock cake.
We immediately ran like delirious children to the top of the cliff and looked out beyond the driving rain. Perhaps unsurprisingly, there was absolutely no one out! Janenne's face looked a little worried, we were even further north now and it was cold. I was entirely pumped and could not get into the rubber and the empty lineup quick enough . . .
And so, as far as scenery and impact and impressions and feeling is concerned, 'Ervic Beach' would have to be one of the most awe inspiring places I have ever surfed. The view, the dramatic cliffs, the distance, the weather, the rocks and stones made the actual sea seem tame in comparison. Even if it were 8 feet and top to bottom the water would still seem much more inviting than the land. . . Just a chilling and chiselled reality, one that made you understand just how short and ultimately fragile your life on this planet is . . . Powerful stuff.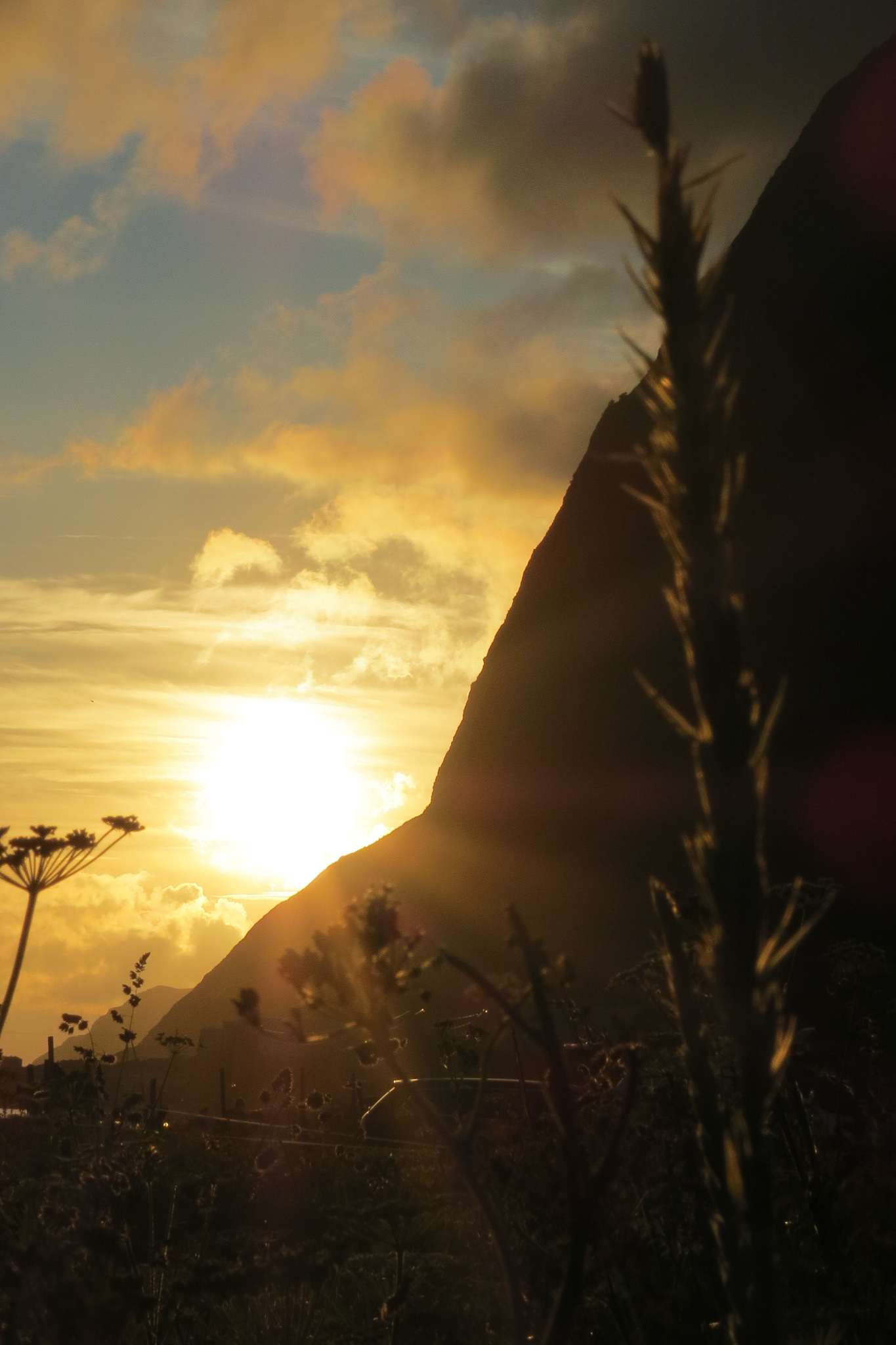 It was an experience that we will never forget, making sandwiches in the car, singing karaoke in the car, being awe struck in the car, not talking to each other in the car and surfing and camping for a week in Norway's Extreme North West.
And the waves, well my first wave at 'Erviks' I will never forget, a perfectly shaped, icy 3 foot peeling glassy right . . . It came right to me and I just raced it all down the line. . .
Sometimes not having to turn or having a detailed plan works in your favour. From camping next to a freezing lake one night and on the beach the next, to stumbling apaon and upgrading to a log cabin. One of our little highlights was beyond a doubt driving high up into the hills and finding 'Hesthaug Gard'.
Think sound of music and there we were, high up in the mountains above the Fjords eating fish paste in our thermals and rabbit fur hats. Or hiking romantically though the summer blossoms past curious goats in the midday sun or was it yodelling midnight sun.
And so Janenne and I adventured. . We drove and we drove and we drove, finally returning to Oslo. With no sleep we said goodbye to the boys at surfshop.no and jumped on a plane bound for Reykjavik.
Lots of Love
Janenne and Darren