Torq Epoxy TEC - 9'6 The Don XL Longboard
Specs: 9'6 x 23 3/4 x 3 5/8 - 90.7 Liter
Farge: White
Finneoppsett: 2+1 (Futures + Single fin Box) - Finner selges separat.
Konstruksjon: Torq Epoxy TEC

Torq beskriver The Don:
"ALL THE TRICKS IN THE BOX"
Modern longboarding has a variety of skill and style that is hard to compare in any other sport. Depending on the surfer, or the wave, or the board, it can be a dance or a martial art. It can be light footed poise or powerful drive, straight line trim or vertical snaps, nose rides or carves. A true modern high performance longboard has to be capable of all of these things.
The Don range has 3 models which fill all of these needs – The Don is stable on the nose, straight and fast through the middle and lively in the tail. The HP model is a finer turned race car, but capable on the nose. The XL is higher volumed and nose oriented but still super responsive in the tail. The added advantage of the Torq TEC construction; lightweight, strong and super responsive makes the wide repertoire of moves easier and more dynamic.

Through the middle is a straight template and flatter rocker. Effortless paddling and glide for early wave catching and trim. Up at the front is a wide longboard nose with a single concave underneath, a soft rail and medium entry rocker. It's a combination made for solid, stable nose rides in addition to easy carving.

In the back 3rd, the template narrows into a pulled in round tail with a double concave vee in the bottom and a medium tail flip. Designed for maneuverability, this tail allows the board to come hard off the bottom into the lip or carve a long arc back into the pocket.

An allround performance longboard in cutting edge technology.

| | |
| --- | --- |
| The Don XL | |
| 8'6 x 23 1/4" x 3 3/8" | 74.7 ltr |
| 9'0 x 23 1/2" x 3 1/2" | 81.8 ltr |
| 9'6 x 23 3/4" x 3 5/8" | 90.7 ltr |


TORQ EPOXY COMPOSITE
Torq TEC; Torq Epoxy Composite offers our user friendly performance shapes in our most advanced epoxy lay-up to date. Using a mix of plain weave fibres and Carbon, these boards offer the best strength to weight ratio on the market.

TEC LONGBOARDS
For lengths of 8'6 and over we have introduced a T-stringer and carbon stringer to the deck and bottom for a new level of torsional strength. The torq longboard technology is incredibly strong, light and responsive.

Our fin system is designed by Futures Fins of California - one of the most respected fin systems on the planet.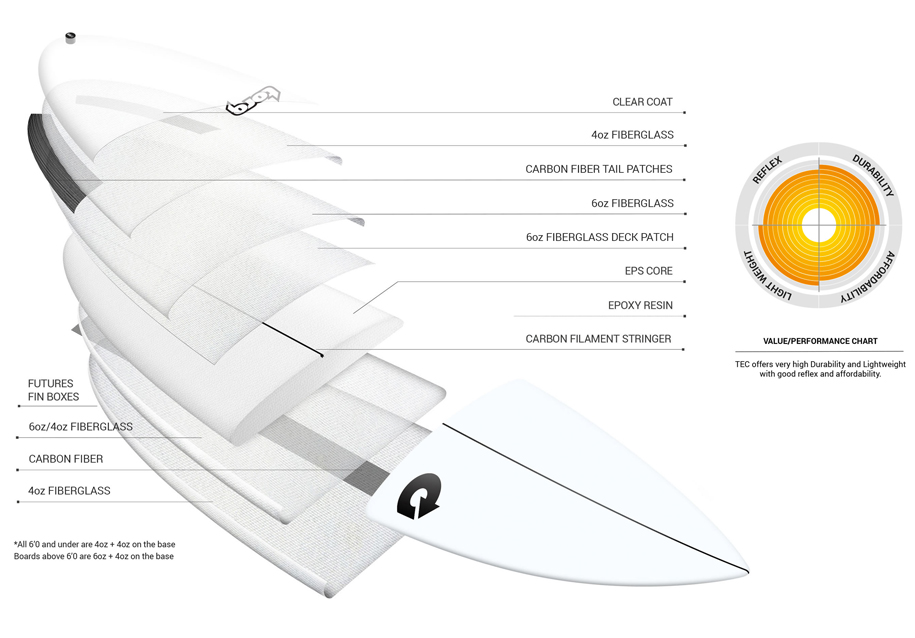 ---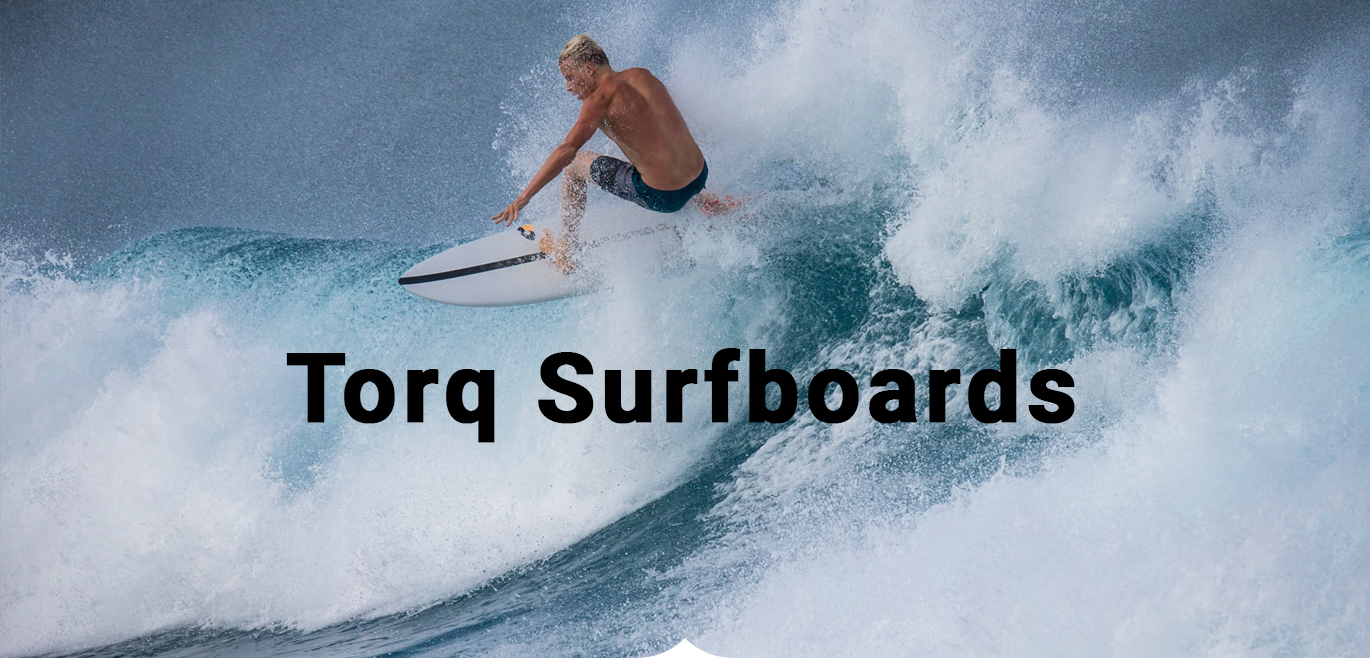 Launched in 2012, torq surfboards created a new standard in the epoxy surfboard market, offering an unmatched combination of strength and performance. This year sees the innovation step up a gear, with new shapes, new graphics a new collaboration with Channel Islands surfboards and the launch of the world's first EPS/Epoxy Pre-Preg surfboard. The torq range now offers 5 types of surfboard technology for all levels of surfer.
ACT - Advanced Composite Technology is the world's first EPS/Epoxy Pre-Preg surfboard. From Race Cars to Super Yachts, the highest performance components are all constructed using Pre-Preg materials and processes. It's the pinnacle of composite technology. The implications for surfboards are huge – more accuracy, less waste, perfect reproduction. However the greatest advantage is in performance through two main factors: Flex and Strength to Weight ratio.

Torq TEC - Torq Epoxy Composite offers a wide variety of performance shapes in our advanced vacuum epoxy lay-up. Using a mix of plain weave fibres and Carbon, these boards offer incredible durability for their weight.
X-Lite is a molded Epoxy technology developed specifically for performance boards. This is stronger and more Eco than a traditional PU/Polyester board. This new innovative technology is used exclusively on the Channel Islands models, the POD MOD and the all new Chancho.
Torq Epoxy Technology or TET represents a revolution in Epoxy surfboard technology. Built using the latest in EPS/Epoxy materials; the Torq Epoxy Technology combines a lightweight EPS core with Biaxial fibreglass cloth, Epoxy resin and our unique Shield Skin.
Our Soft Deck board uses an additional PE deck skin over a full laminated core to offer a safe first time learning option in this durable easy surfing range.