Torq Epoxy Tec - 7'6 Big Boy Surfebrett
Specs: 7'6" x 23" x 3'' - 57.5L
Finneoppsett: 5-fin Futures (Finner selges separat)
Konstruksjon: Torq Epoxy TEC

"THIS IS A FUNBOARD ON STEROIDS"
For this concept we've used the overall plan shape of a minimal/funboard and boosted the width and volume along the length and foil. The result is a manageable, easy turning length with the paddle and float of a much larger board.
For improving surfers, this offers stability, paddle power and wave catching ability. For heavier surfers you'll find the float you need in a much shorter length. The single to double concave means you can still put this board on a rail.
This is a wolf in sheep's clothing. The dark horse, charlatan, imposter. You think you're looking at a funboard? Think again. This is a funboard on steroids. This is Jekyll and Hyde.

On paper it's a funboard and if you're looking to catch green waves and do some turns, the width, volume and length means this board will do it all day long – it's perfect for you. But in the hands of a seasoned surfer it'll come alive. Think of it as a shortboard with a little extra width in the nose but all the performance features to surf hard and fast. One customer genuinely told us "I was smiling so much I got sunburnt teeth!".
For any big guy rippers out there, longboarders wanting a shorter board or intermediates, look no further.
With 5 Futures fin boxes, the BigBoy 23 can be ridden as Quad or Thruster.
| | |
| --- | --- |
| DIMENSIONS | VOLUME |
| 6'10 x 22 1/2" x 2 7/8" | 49.1 ltr |
| 7'2 x 22 3/4" x 3" | 53.7 ltr |
| 7'6 x 23" x 3" | 57.5 ltr |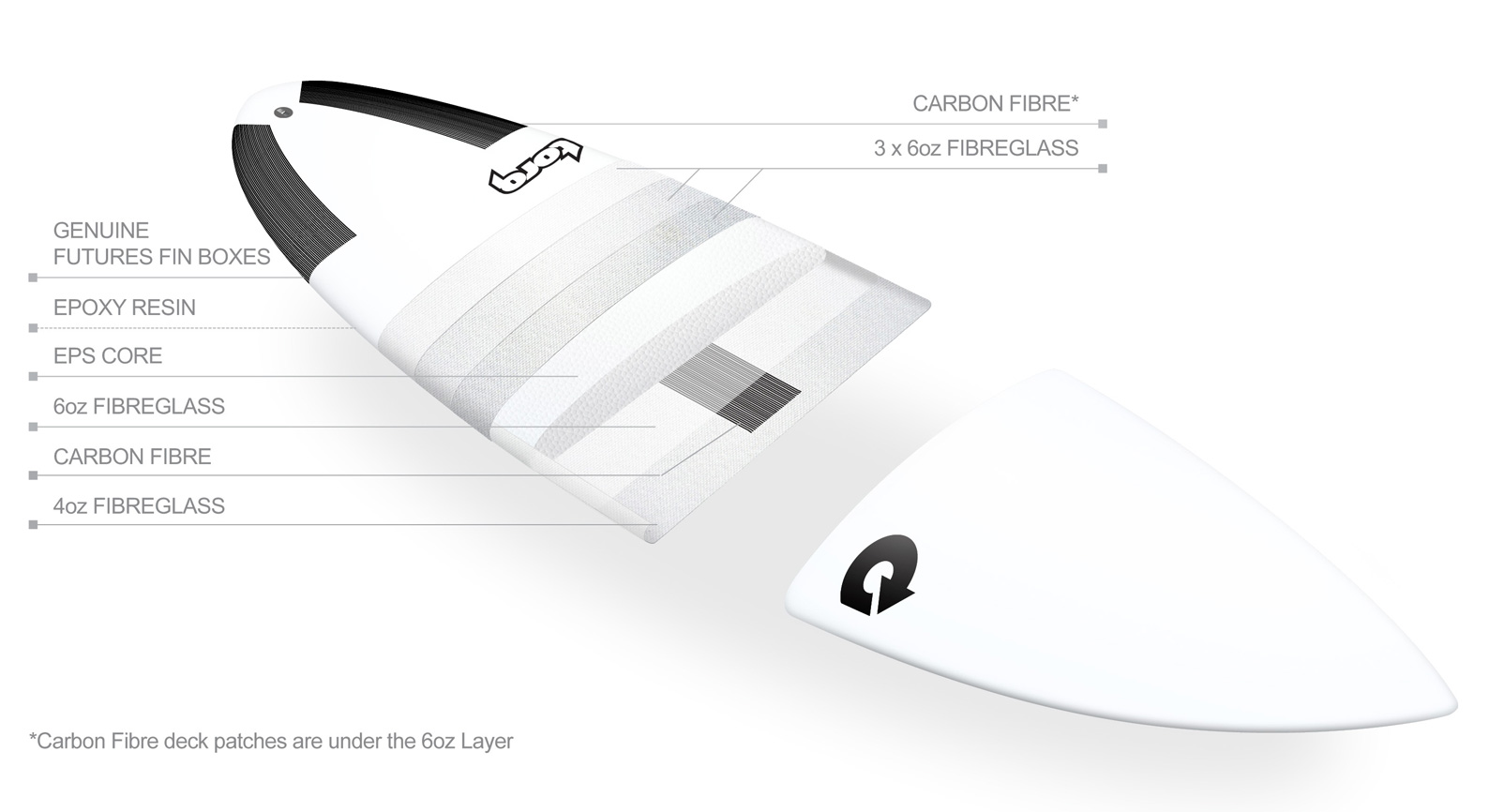 TORQ TEC CONSTRUCTION IN DETAIL:
Torq Epoxy Composite offers versatile performance shapes in the most advanced epoxy construction.
Used is a mix of traditional fiberglass layers and carbon fibers, which makes the boards ultra-light and robust.

One step ahead
By using optimized composite construction methods, the TEC Range is one step ahead. Super stable yet lightweight boards with perfect flex.

Control - Flex - Response
In the TORQ epoxy composite production, a layer of 6oz and 4oz fiberglass as well as carbon reinforcements (in the tail) are processed in deck and bottom. The underside is also reinforced with carbon in the tail area and also has a carbon stripe that extends the full length, providing the board with controlled flex and lively response.
The deck has an additional 6oz fiberglass patch.

Unmatched Durability
This breakthrough technology has been applied to the proven TORQ PU / polyester shapes to create true high performance boards with unrivaled durability.

EPS foam:
lighter-faster-greener
The computer-controlled production of the blanks generates significantly less waste. No MDI and TDI.Far more environmentally friendly than conventional polyurethane blanks.

CARBON FIBERS:
Stronger - Livelier Provide
the board with higher ductility than fiberglass. Livelier in the maneuvers plus stronger in the polluted region such as over the Finns.

EPOXY RESIN:
Solid - Environmentally friendly
Less release of toxic VOC during curing. Firmer than polyester resin. No surpluses / waste in processing
---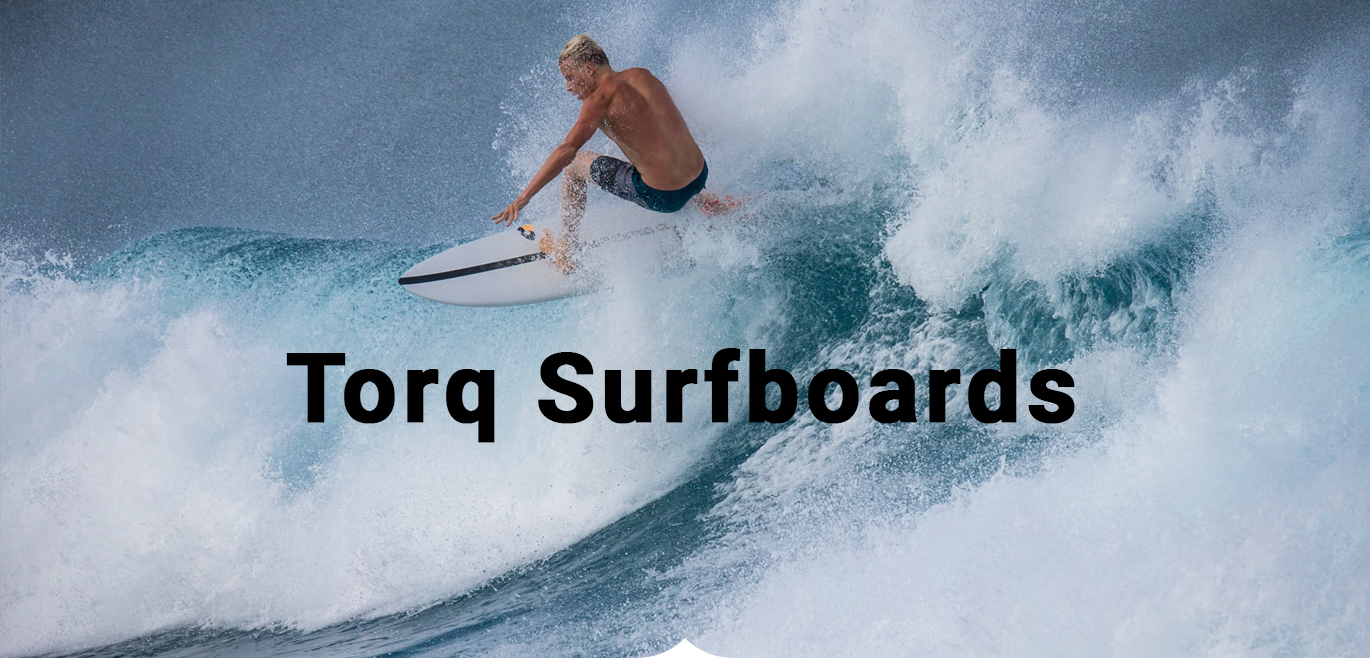 Launched in 2012, torq surfboards created a new standard in the epoxy surfboard market, offering an unmatched combination of strength and performance. This year sees the innovation step up a gear, with new shapes, new graphics a new collaboration with Channel Islands surfboards and the launch of the world's first EPS/Epoxy Pre-Preg surfboard. The torq range now offers 5 types of surfboard technology for all levels of surfer.
ACT - Advanced Composite Technology is the world's first EPS/Epoxy Pre-Preg surfboard. From Race Cars to Super Yachts, the highest performance components are all constructed using Pre-Preg materials and processes. It's the pinnacle of composite technology. The implications for surfboards are huge – more accuracy, less waste, perfect reproduction. However the greatest advantage is in performance through two main factors: Flex and Strength to Weight ratio.

Torq TEC - Torq Epoxy Composite offers a wide variety of performance shapes in our advanced vacuum epoxy lay-up. Using a mix of plain weave fibres and Carbon, these boards offer incredible durability for their weight.
X-Lite is a molded Epoxy technology developed specifically for performance boards. This is stronger and more Eco than a traditional PU/Polyester board. This new innovative technology is used exclusively on the Channel Islands models, the POD MOD and the all new Chancho.
Torq Epoxy Technology or TET represents a revolution in Epoxy surfboard technology. Built using the latest in EPS/Epoxy materials; the Torq Epoxy Technology combines a lightweight EPS core with Biaxial fibreglass cloth, Epoxy resin and our unique Shield Skin.
Our Soft Deck board uses an additional PE deck skin over a full laminated core to offer a safe first time learning option in this durable easy surfing range.