Informasjon
Lost Sub Driver 2.0 5'10 (30L) Light Speed - Surfebrett
Dimensjoner: 5'10 x 19.50 x 2.44 x 30 L (Bro Dims)
Farge: Hvit m/ORANSJE logo
Konstruksjon: Light Speed technology
Finneoppsett: 3-fin Futures (Finner selges separat)

Our best small wave, performance shortboard just got better!
Since its inception, each version of the SUB DRIVER has remained our most successful, small wave competition surfboard. From Kolohe Andino's 2011 run of 5 WQS event wins (WCT qualification) to Mick Fanning taking notice and famously grabbing one of Kolohe's discarded SUB DRIVERS, blazing through heats at The Lowers Pro and subsequently claiming the board had "Completely changed his perception of what a competition board can be". The SUB DRIVER has remained a mainstay of our competitive team rider's quivers. Year after year, competitors around the world request the SUB DRIVER as a special weapon for the varied and unpredictable WQS surf, yet just about anyone with even modest skills can ride this board as a daily driver.
The SUB DRIVER 2.0 is the latest iteration in the continuing evolution of our most user friendly, pro-formance shortboard. Developed in the soft peeling points of San Clemente, it loves small to average surf and really does well in connecting the dots in mushy points, or weak, broken up beach breaks. A surfboard developed for competitors in sub-par surf, that actually transitions perfectly to everyday surfers.
The SUB DRIVER 2.0 was derived to benefit the Pros, yet it really is perfect for most "Bros". Reflecting the small wave demands from Kolohe Andino, Griffin Colapinto and our up and coming team of Jr Pros and WQS Warriors, constant evolution and noticeable updates have brought us to the point where we are now proud to launch the SUB DRIVER 2.0

BRO DIMS
2021 Update
| | | | |
| --- | --- | --- | --- |
| 4'10 | 17.00 | 2.06 | 18.50 |
| 4'11 | 17.13 | 2.06 | 19.00 |
| 5'0 | 17.25 | 2.10 | 19.75 |
| 5'1 | 17.50 | 2.10 | 20.25 |
| 5'2 | 17.25 | 2.15 | 21.00 |
| 5'3 | 18.00 | 2.18 | 22.00 |
| 5'4 | 18.25 | 2.22 | 23.10 |
| 5'5 | 18.50 | 2.25 | 24.10 |
| 5'6 | 18.63 | 2.28 | 25.10 |
| 5'7 | 18.75 | 2.32 | 26.00 |
| 5'8 | 19.00 | 2.35 | 27.25 |
| 5'9 | 19.25 | 2.40 | 28.50 |
| 5'10 | 19.50 | 2.44 | 30.00 |
| 5'11 | 19.75 | 2.45 | 31.00 |
| 6'0 | 20.00 | 2.50 | 32.00 |
| 6'1 | 20.25 | 2.53 | 33.25 |
| 6'2 | 20.50 | 2.60 | 35.00 |
| 6'3 | 20.75 | 2.63 | 36.75 |
| 6'4 | 21.00 | 2.66 | 38.50 |
| 6'5 | 21.25 | 2.75 | 40.50 |
| 6'6 | 21.50 | 2.80 | 42.00 |
| 6'8 | 21.75 | 2.80 | 44.00 |
Featured updates and adjustments include…
An even wider, more forgiving, nose: Designed to increase forward drive for us mortals and lend more stability for hot shots landing radical airs. The wider nose creates a straighter forward outline which paddles into waves easier and subsequently builds forward momentum faster in sub-par surf.
Smoothed out and re-imagined the wide hip in the tail: Primarily to balance the wider forward outline, it allows more control at speed and a more effortless initiation of bottom turns and cutbacks. The hip is still noticeable and then angles into the wide squash tail. The wide tail creates a stable platform, especially in small waves. The hip breaks the rail line and creates a pivot point to crank tight, powerful turns in lesser surf. Making it easier for us to ride a performance shape even in poor surf.
Added thickness along the center (stringer line) with increased "vee" deck and more refined rails: Lowered rail volume (without lowering overall volume) to encourage radical rail turns and make a more nimble, reactive board that still floats through flats, and surfs forgiving. The thicker centerline under chest aids paddling and makes for more drive off the front foot gas pedal.
A deeper concave in the rear third of the board: The rail rocker transitions from a modest forward concave, to a deeper, more-curvy, rail line through the front fins. It then accelerates upward to a slight vee behind the rear fin and out the tail. There is a good amount of double concave through the tail, adding lift and helping the water squirt through and release.
The SUB DRIVER 2.0's curvy, hyper extended, rail rocker creates a hinge under the rear foot and counterbalances the low, flat centerline tail rocker, enabling it to be surfed tight and vertical in the pocket, as well as the already speedy down the line drive.
The wide nose and tail block combined with the low tail rocker and generous dims, allow the SUB DRIVER 2.0 to be ridden 1-2" shorter than a DRIVER 2.0 or similar performance shortboard. Now available in standard sizing and the larger scale, SUB DRIVER 2. BRO dims.
If you're looking for a tried, tested and proven small wave performance machine, look no further than the SUB DRIVER 2.0.
Lost Surfboards
---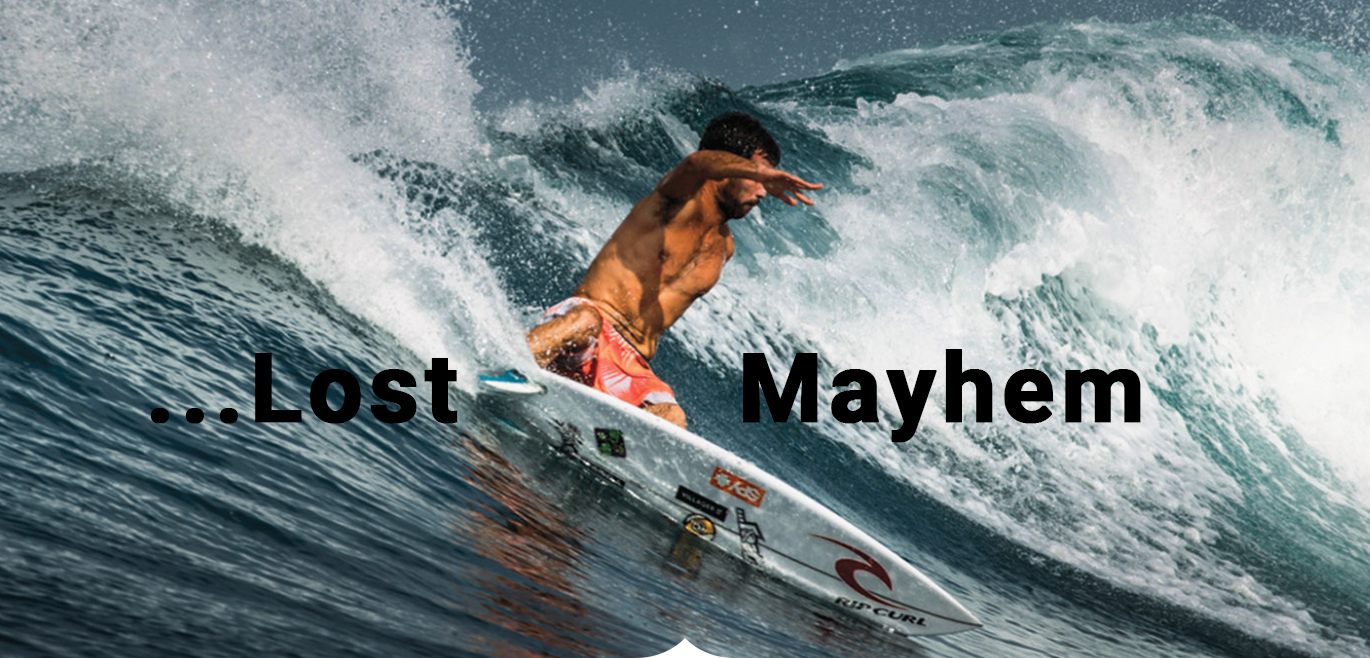 No advertising firm was hired to design the LOST logo.
Lost began in 1985 when Matt Biolos and a bunch of school friends were into snowboarding at Mt. Baldy, skateboarding at the Pipeline in Upland, and surfing in Dana Point. They weren't too worried about winning this football game or that contest. They were "team lost". Thus the name ...lost scribbled on books, t-shirts, benches, tables and eventually clothing.
We could say "Since those wild beginnings, ...Lost has spread slowly across the world. The Company has matured internally but continues to run off the same philosophy it started with. The Lost thinking now flows through its art, music, films, athletes and clothing" ...but that sounds like some PR firm wrote that for us. So ...Lost is whatever you think it is
Teknologi
LIGHT SPEED PRO-FORMANCE EPOXY

LightSpeed is our proprietary surfboard construction built with lightweight EPS foam and high strength epoxy resin. LightSpeed uses a combination of Rapid-Reflex Carbon Fiber as well vibration dampening Innegra-Fibers, woven into the finest custom performance fiberglass cloth.
Like the name implies, LightSpeed is both light and exceptionally fast, allowing you to take your surfing to new levels of speed and Pro-formance. Developed in-house, our crew of board builders worked closely with our top Jr and WQS team riders to create the best possible technology for High Pro-formance small wave and every day surfing. After well over a year of testing various versions, and R&D with some of the world's best young surfers, we are now making this exciting custom surfboard construction available to all.
LIGHT SPEED Custom Composite features:
Ultra-Light / Ultra-Lively Foam Core: Steam molded, High Strength-to-Weight Ratio, fused cell, water resistant, stringer-less EPS foam core.
High-Strength, Flexible, Impact Resistant, Epoxy Resin System. Woven Carbon Fiber Centerline "Stringer" (top and bottom): Engineered to add both strength and Rapid-Reflex "pop", with just enough release to feel forgiving underfoot. The Carbon loads up under foot pressure, and springs upon release.
Fused Carbon, Tail Reinforcement Patches: Transfers more direct input into rail and adds strength.
Centerline Aligned Carbon "Exo-Stringers": Enable natural Torsional Twist, similar to a wood stringer board, but lighter, and with a much faster reflex reaction and more "pop".
Innegra Infused, Engineered Composite Fiberglass: A multi weave (6oz lengthwise, woven with 4oz, rail to rail) fiberglass, top and bottom, adds significant break strength, while keeping the boards Ultra-light and Ultra-lively.
5oz Warp-Weave Fiberglass: A multi weave (6oz lengthwise, woven with 4oz, rail to rail) fiberglass, top and bottom, adds significant break strength, while keeping the boards
Ultra-light and Ultra-lively.
LightSpeed – Light and exceptionally fast technology, allowing you to take your small wave and everyday surfing to new levels of speed and Pro-formance.
Kunder som så på dette så også på