Informasjon
Firewire - 6'1 FRK Ibolic (31.6L) - Slater Designs surfebrett
Dimensjoner: 6'1 x 19 1/4 x 2 5/8 - 31.6 Liter
Finneoppsett: 5-fin Futures (finner selges separat)
Konstruksjon: Ibolic Technology
Farge: Hvit
 
In 2015 I was asked to shape Kelly a board for the first time. I knew immediately what I wanted to make him. 
I saw it all in my head immediately; from the bottom contour to the tail template. The way the volume would distribute through the width, the whole shape… It might actually be the most intuitive design I've ever done, probably because I've spent so many years both watching Kelly surf, and shaping boards.
As crazy as it sounds I was certain it would work for him. Totally certain.
The odd thing is, after sending him the board in 2015, I never heard from Kelly about how the board went, and I sort of just moved on to other stuff. 
Then one afternoon in 2017 I got this stream of text messages one day about how Kelly was blowing up at Trestles on my board. It totally caught me off guard. Just text messages and phone calls flying in from everyone.
I sorted through everyone's messages and learned that Kelly's good friend from Florida who was in town at the time had grabbed the board from Kelly's shed where it had sat un-surfed for two years. 
He surfed it and then told Kelly that Kelly would love it based on having known Kelly his whole life, and having a good idea about what boards he likes and doesn't like, based on all the times the two of them had swapped boards before. 
Anyway, thankfully Kelly took his friends advice and loved the board from the first turn. 
Kelly actually said he knew the FRK was a keeper before he'd even completed his first wave on it. Two weeks later he took it to J Bay and did what a lot of people called his best surfing of the year. 
Since that contest, he's ridden the FRK everywhere in videos and at key events like the Founders Cup, J Bay again in 2018, and the Surf Ranch Pro. He's also surfed it all around the North Shore this Winter. 
Actually the FRKs he's been riding this Winter have been straight out of Firewire's factory, and I'm stoked we were able to so smoothly transition the custom FRKs I've been making him since 17' into the final version from Firewire's factory that will be at surf shops everywhere. To see Kelly embrace the shape and build exactly as it will hit surf shops is awesome.
If I had to describe the nuts and bolts of the FRKs design, I'd simply say it's made to make you forget it's there. 
When designing boards for Kelly I'm trying to remove as many variables as possible and make it something that can level up his talents, or the talents of other surfers, without any glitches, or ever feeling like its in your way. 
I can't wait to see everyone riding it in 19'.
– Dan Mann; FRK Designer.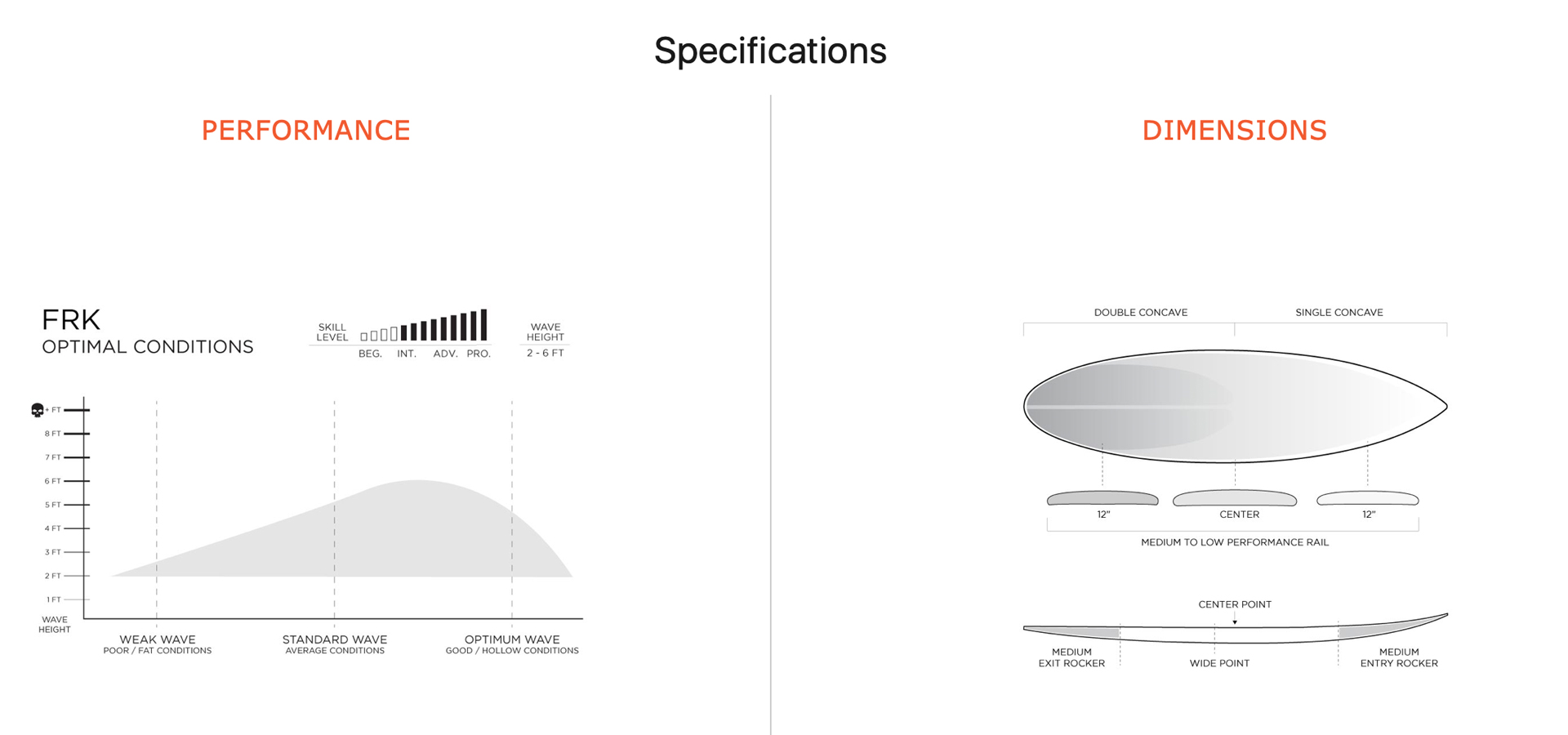 Alle størrelser:
| | | | |
| --- | --- | --- | --- |
| Størrelse | Bredde | Tykkelse | Volum |
| 5' 11" | 18 3/4" | 2 1/2" | 29,2 |
| 6' 0" | 19" | 2 9/16" | 30,7 |
| 6' 1" | 19 1/4" | 2 5/8" | 31,6 |
IBOLIC TECHNOLOGY
Patent Pending technology build into the core blank construction create preloaded structural flex together with structure strength and durability. 
Fiber  Reinforced I-Beam down center with Parabolic Rail Springers from nose to tail.
Three independent points for flex control and break resistance
I-Beam ensures firmness underfoot and unparalleled break strength
Two Parabolic Rail Springers enable flex and recoil during turns
I-BOLIC Technology is an engineering feat that builds performance into the core of your surfboard - no external carbon layups or heavy laminations needed.
A leap forward in surfboard manufacturing with an interplay of our favorite elements of LFT and Helium combined, elevated and enhanced to put The Future Under Your Feet.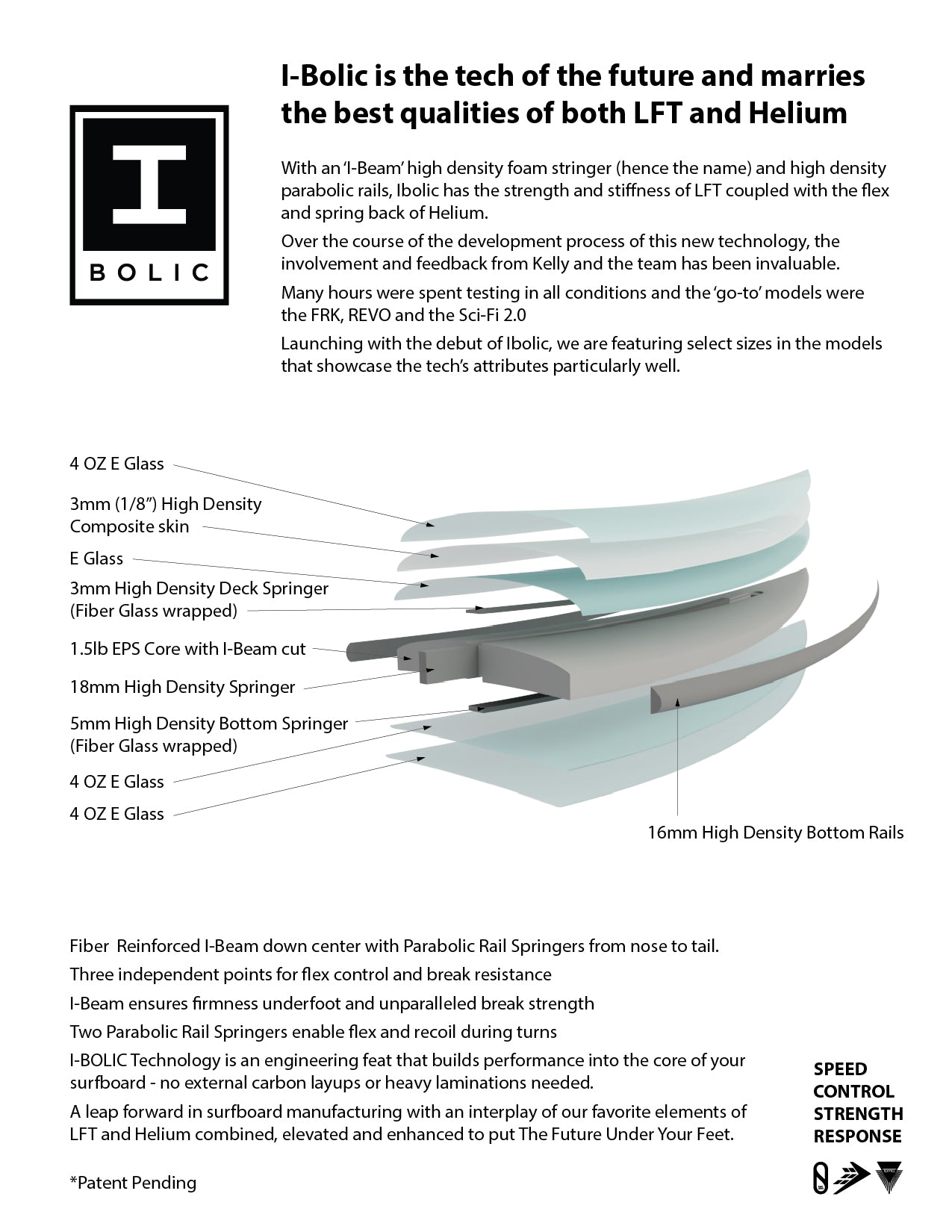 Firewire
---


Firewire Surfboards has quite a fascinating history thanks to the man behind the boards, Australian shaper Nev Hyman, and has become one of the most well known surfboard manufacturers of epoxy surfboards. In 1975 Nev started Odyssey Surfboards in Perth, West Australia. After some traveling Nev changed its name to Nev Surfboards in 1981. From here, Hyman began to design blanks for some of the best surfers in the world. Gaining much experience, Nev began to hone his craft and feel for the perfect surfboard. By 1998, Nev Future Shapes was the new name, Hyman's business was now in the global market, and was producing over 5,000 boards a year with his crew. Starting in 1989, Hyman began to get involved with computer shaping. He became quite involved in the general acceptance of the practice and began to seek his 'Holy Grail' of machine-shaped surfboards. Around 2004, Hyman met Bert Berger and was introduced to his high-tech, handmade surfboard that included balsa rails, and a high-density composite top and bottom.

By early 2006, Firewire Surfboards were making their appearance in the lineup. These boards were completely created on a CAD/CAM software allowing for a perfect board to be consistently created without variations in shape. The designing is done by Dan Mann and Nev Hyman on a 2D program called AKU Shaper. A master is cut out on an AKU CNC Shaping Machine and then examined by Hyman and fixed to his standards.

The blank is then transformed into a 3D drawing on CAD modeling software. Here, all parts of the board are created in 3D including rails and stringers. The 3D model is then sent to Firewire's factory in Thailand, where the final surfboard is created under strict guidelines.

Slater Designs
"I'm not sure if the perfect board really exists, but I'm enjoying the freedom to collaborate with some of surfing's most innovative shapers and designers. It is a quest to create something different in a slightly different way that appeals to where I want to go on a wave. Discovering a new feeling under my feet, drawing a new line, or taking a completely different track on a wave is something I never stop dreaming about. Now being able share and grow that idea with others is what keeps surfing fun for me." -Kelly Slater
Firewire
Firewire is dedicated to elevating the surfing experience through innovative design, new materials, and advanced construction methods. In collaboration with surfboard designers like Rob Machado, Dan Mann, and Wingnut, our aim is to maximize stoke in our oceans and minimize waste in our landfills.
Tomo
Push the envelope. Watch it bend. Two sentences describing Tomo's approach to surfboard design, seen clearly in every shape he's made since the Vanguard in 2012. Backed up by high level surfing talent and mentoring from some of the surfing's most legendary surfers and designers, Tomo has developed a 'sixth sense" for developing some of the most radical and unique performance surfboards ever, for example, the Cymatic for Slater Designs.
Kunder som så på dette så også på