Informasjon
Firewire - 5'6 Flat Earth LFT (27.1L) - Akila Aipa
Dimensjoner: 5'6 x 19 3/8 x 2 7/16 - 27.1 Liter
Finneoppsett: 3-fin Futures (finner selges separat)
Konstruksjon: Linear Flex Technology
Farge: Hvit
 
These are crazy times! When conspiracies become realities, and creativity manifests to functionality.
Introducing the Flat Earth: a board built to shred ankle high to overhead surf. Designed by Akila Aipa and dialed-in by Kelly Slater, this model is ready to be your go-to board whatever the conditions of the day.
Finesse and flow in waves chest to head high, sized at your normal shortboard volume or a couple liters more. 
Experiment with a twin + trailer or twin without trailer, because this shape surfs on a spectrum from loose and slidey in smaller sizes with two twin fins, to grippy and drivey in larger sizes with a trailer added.
In summary, let the Flat Earth blow your mind as a twin fin, or sip the serum in doses with a trailer fin.
Feel the speed.
Hit the lip.
Bury the rail.
As Akila's dad – the great, surfer-shaper Ben Aipa – would say, "HOOK IT!"

 
DIMENSIONS
5'0"   17 1/2"   2 3/16"   20.0L
5'3"   19"   2 5/16"   24.2L
5'5"   19 1/4"   2 3/8"   25.9L
5'6"   19 3/8"   2 7/16"   27.1L
5'7"   19 1/2"   2 1/2"   28.4L
5'8"   19 5/8"   2 5/8"   30.4L
5'9"   19 3/4"   2 11/16"   31.8L
5'10"   20"   2 3/4"   33.4L
5'11"   20 1/4"   2 3/4"   34.2L
6'0"   20 1/2"   2 13/16"   36.1L
6'2"   21"   3"   40.0L
6'4"   21 1/2"   3 1/4"   45.8L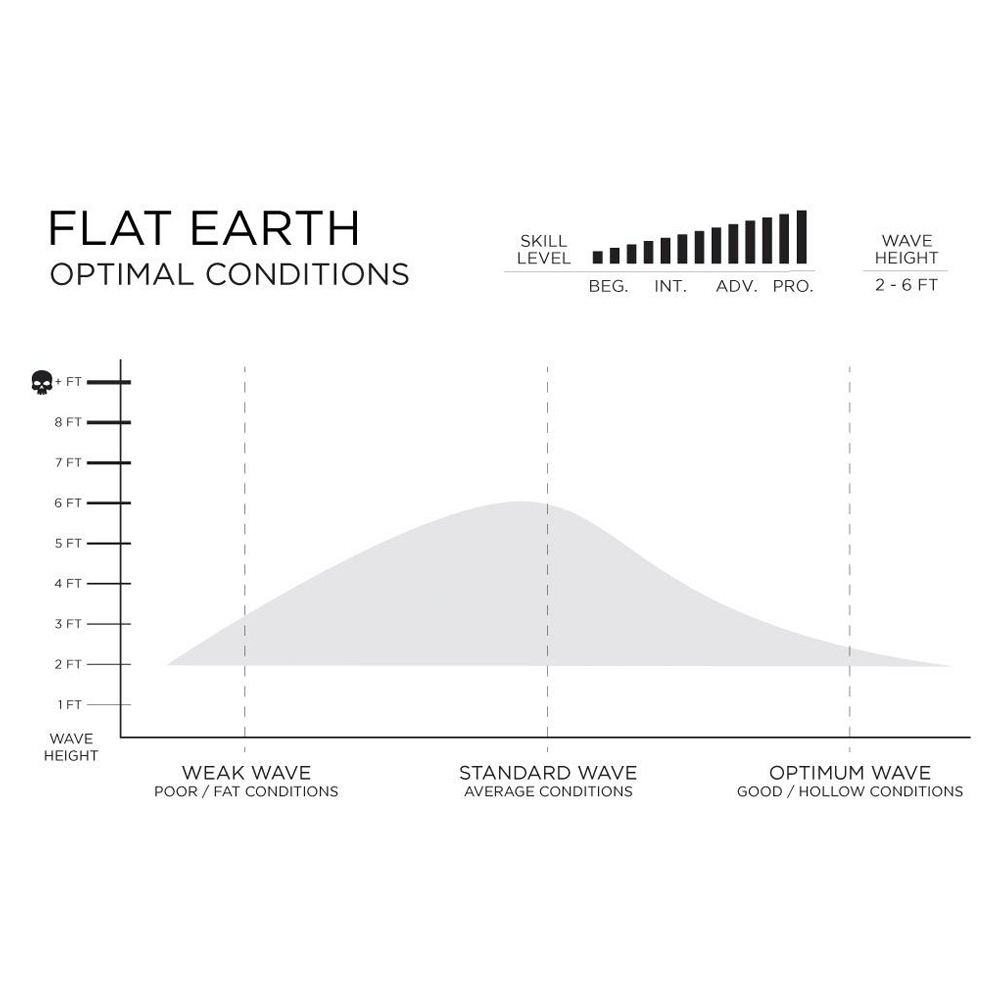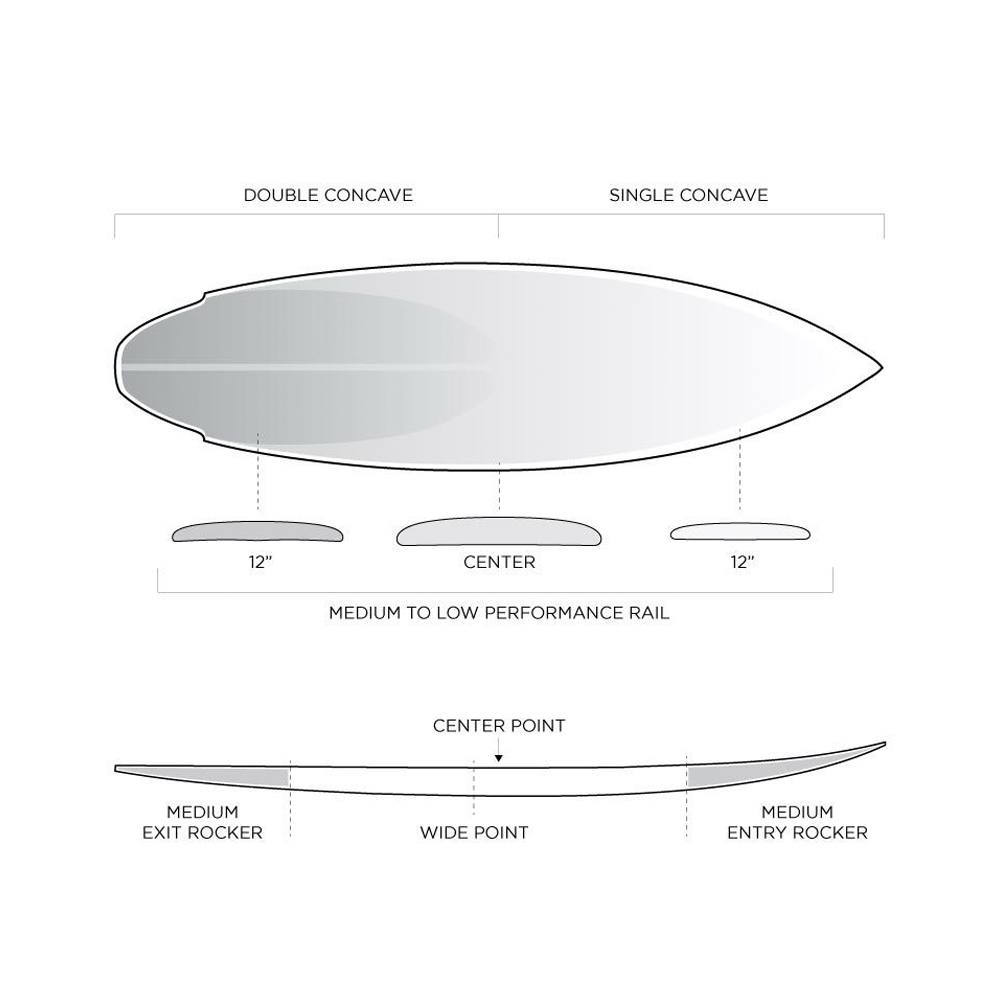 Firewire
---


Firewire Surfboards has quite a fascinating history thanks to the man behind the boards, Australian shaper Nev Hyman, and has become one of the most well known surfboard manufacturers of epoxy surfboards. In 1975 Nev started Odyssey Surfboards in Perth, West Australia. After some traveling Nev changed its name to Nev Surfboards in 1981. From here, Hyman began to design blanks for some of the best surfers in the world. Gaining much experience, Nev began to hone his craft and feel for the perfect surfboard. By 1998, Nev Future Shapes was the new name, Hyman's business was now in the global market, and was producing over 5,000 boards a year with his crew. Starting in 1989, Hyman began to get involved with computer shaping. He became quite involved in the general acceptance of the practice and began to seek his 'Holy Grail' of machine-shaped surfboards. Around 2004, Hyman met Bert Berger and was introduced to his high-tech, handmade surfboard that included balsa rails, and a high-density composite top and bottom.

By early 2006, Firewire Surfboards were making their appearance in the lineup. These boards were completely created on a CAD/CAM software allowing for a perfect board to be consistently created without variations in shape. The designing is done by Dan Mann and Nev Hyman on a 2D program called AKU Shaper. A master is cut out on an AKU CNC Shaping Machine and then examined by Hyman and fixed to his standards.

The blank is then transformed into a 3D drawing on CAD modeling software. Here, all parts of the board are created in 3D including rails and stringers. The 3D model is then sent to Firewire's factory in Thailand, where the final surfboard is created under strict guidelines.

Slater Designs
"I'm not sure if the perfect board really exists, but I'm enjoying the freedom to collaborate with some of surfing's most innovative shapers and designers. It is a quest to create something different in a slightly different way that appeals to where I want to go on a wave. Discovering a new feeling under my feet, drawing a new line, or taking a completely different track on a wave is something I never stop dreaming about. Now being able share and grow that idea with others is what keeps surfing fun for me." -Kelly Slater
Firewire
Firewire is dedicated to elevating the surfing experience through innovative design, new materials, and advanced construction methods. In collaboration with surfboard designers like Rob Machado, Dan Mann, and Wingnut, our aim is to maximize stoke in our oceans and minimize waste in our landfills.
Tomo
Push the envelope. Watch it bend. Two sentences describing Tomo's approach to surfboard design, seen clearly in every shape he's made since the Vanguard in 2012. Backed up by high level surfing talent and mentoring from some of the surfing's most legendary surfers and designers, Tomo has developed a 'sixth sense" for developing some of the most radical and unique performance surfboards ever, for example, the Cymatic for Slater Designs.
Teknologi
LFT incorporates Firewire's SPRINGER HD, a 0.75" (18 mm) wide aerospace composite that runs down the centerline of the board, representing the next generation in our SPRINGER technology. The SPRINGER HD runs the entire length of the board and plays a pivotal role in optimizing flex from nose to tail.
LFT TOP DECKSKIN
LTF's deckskin serves as an additional buffer against the ridging effect that center stringers create over time, while simultaneously working in tandem with the SPRINGER HD to optimize the overall flex pattern of the LFT technology.
1 – Entropy Bio-Resin Throughout
2 – 1mm Ultralight High Compression Deckskin
3 – Top Deck Sandwich Cloth
4 – Aerospace Composite Springer
5 – 1.5 lb EPS Core
LFT – ECOBOARD Verified – LEVEL ONE
Kunder som så på dette så også på